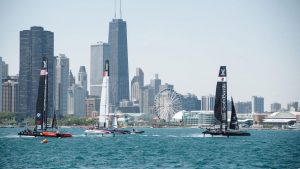 rEvolution, the integrated global sports marketing agency, has acquired London-based sports marketing agency, Revolution Sports Marketing Group. Founded in 2003, Revolution works with a variety of clients across golf, equestrian, tennis, motorsports and rugby, and counts SAS, Land Rover and the FEI World Equestrian Games Tryon 2018 among its current client partners. The acquisition bolsters rEvolution's current roster of global clients, particularly those active in international sports, including Continental Tire, Polaris, Shell, Samsung and YouTube.
"Merrick and I both share the collective values about how to deliver world-class sports marketing services, while also advancing the expectations for what global sport can do for the growth of brands," said John Rowady, president and founder, rEvolution. "Having a true integrated sports marketing services platform on the ground in the UK is an essential step toward achieving our vision, and with this acquisition we are excited to create a new, legitimate pathway for international sports brands interested in deepening their connection with fans within North America (and vice versa)."
Revolution was co-founded in 2003 by industry veteran Merrick Haydon, an established sports marketer who prior to launching Revolution worked both in communications and sponsorship consulting in golf, athletics, tennis, equestrian, sailing, motorsport and rugby with a variety of global brands, including Barclays, BMW, UBS, Unilever and American Airlines. Haydon currently leads Revolution's work across many global brands and properties, with service expertise in public relations, event management and sponsorship consulting. With the acquisition, rEvolution's service offerings in the UK are immediately broadened under rEvolution's fully integrated service model.
"It's a tremendous opportunity for Revolution to join another independent agency that has the scale to broaden our role globally with existing clients," Haydon said. "London is a major artery for sports business not only in Europe, but in the entire world – as part of the rEvolution team, we are excited to offer more expanded services for all of our client partners."
The acquisition of Revolution by the US-based rEvolution will lead to the creation of a new London location, the ninth satellite office for rEvolution. Outside of rEvolution's global headquarters in Chicago, rEvolution boasts an office location in Indianapolis, as well as remote offices in Atlanta, Charlotte, Connecticut, Denver, Southern California and Minneapolis. In addition to Haydon, all current Revolution staff will be joining rEvolution in their respective client relations, experiential, hospitality and media roles.
rEvolution's continued international expansion will also afford additional opportunities for rEvolution's subsidiaries, including REV/XP, an independent, fully integrated esports marketing and talent management agency, which has managed high-profile partnerships with top-tier teams OpTic Gaming and Splyce and has ushered in and managed campaigns for brands, including Chipotle, Turtle Wax and PepsiCo's Brisk; as well as RGE, a global-event consultancy for sponsors of global sports federations, who most recently completed on-the-ground work on behalf of sponsor partners at the 2018 FIFA World Cup in Russia.
Source: rEvolution