Richard Branson takes to the snow-covered Swiss Alps to explain the importance of survival to budding entrepreneurs, as Sundog Pictures and ENVY Advertising collaborate once again on the launch campaign for VOOM, this year's 'Pitch to Rich' competition.
The film, which aired for the first time on Channel 4 on March 22, launches 2016's VOOM competition. Directed by Bruce Goodison, the film is one of a series of TVCs and online films produced by Sundog Pictures.
Making its debut in 2015, the competition from Virgin Media Business gives promising entrepreneurs the chance to pitch their business ideas to Virgin chief Branson, with the ten best pitches winning a share in £1,000,000 of prizes.
Having teamed up to produce last year's launch film together, ENVY Advertising were brought on board by Sundog Pictures to provide colour grade, Flame and sound design work for this year's campaign.
Shot atop the snow-tipped peaks of the Swiss Alps, the film shows Branson forging a path through dense pine-forests and deep snowdrifts to a breath-taking mountain precipice, mirroring the difficult and imposing challenges faced by entrepreneurs today.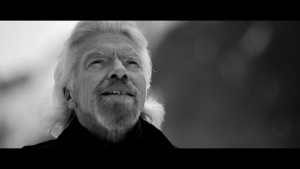 Juxtaposing Branson's black-and-white journey with the subtly coloured stories of last year's finalists, the film culminates with a spectacular sweeping shot that shows the intrepid entrepreneurs at the summit of the mountain.
With the film's tone and mood being central to the overall creative brief, Danny Wood, Colourist at ENVY Advertising, explains: "It's a really beautifully shot piece of work. The look of the interviews was based on the iconic portraits of Yousuf Karsh, which sat against muted colour in other scenes."
Helen Richardson, Producer at Sundog Pictures, comments: "This was a potentially fiddly project, with lots of different and ever-evolving deliverables, a significant VFX component, and three offline suites running simultaneously. James Trimming and Pete Burch were absolute heroes, ensuring the whole process ran smoothly from start to finish and that we were well looked after throughout. The tone and mood of the colouring was a central creative component for Bruce Goodison right from the start, with much of it shot for black and white. Danny Wood took Bruce's ideas on board and ran with them, creating a beautiful, strong grade that brought the films to life."