If one of the most touched and photographed breasts in the world suddenly developed a lump, would anyone notice? That was the key question asked by leading Irish cancer charity, the Marie Keating Foundation, and creative agency ROTHCO | Accenture Interactive, as part of their arresting new campaign, 'Take Notice', for Breast Cancer Awareness Month.
The star of 'Take Notice' is Molly Malone. Molly is the enigmatic heroine of the famous song of the same name, widely recognised as the city's unofficial anthem. The buxom statue has gone on to become one of Ireland's most recognisable and Instagram-ed monuments, attracting hordes of tourists daily. Their 'handsy' antics have resulted in the statue being groped so much that the bronze hue has begun to wear off on the bosom.
Realising that people seem to be more aware of Molly's breasts than their own, the Marie Keating Foundation and ROTHCO decided to leverage the public's obsession to spark a national and international discussion about breast health.
This month, ROTHCO created and placed a small lump on one of Molly's breasts, which went totally unnoticed by the general public, who continued to take pictures with Molly and touch her bosom. The campaign film – which features a touching bespoke rendition of Molly's song by Irish singer Imelda May – highlights to the public that if a lump on the most famous and watched pair of breasts in Ireland can go without detection, women have to be extra vigilant and thorough with their breast examinations.
Kathy Troy, Head of Strategy at ROTHCO comments: "One in ten women will develop breast cancer over the course of their lifetime, and in Ireland alone, there are currently 3,516 new cases diagnosed annually. The first symptom of breast cancer in many women is a lump on their breast. Early detection can save lives as it can make the cancer easier to treat – but unfortunately, women still aren't paying enough attention to their breasts. Breast Cancer Awareness Month is critically important in raising awareness but we know sometimes the message to form the habit of checking yourself is lost in the sea of pink. We knew that to make people take notice was going to require a really simple idea to genuinely cut through. Using an iconic bust like Molly Malone seemed to be the perfect starting point to highlight how easy it is to miss something when you're not looking for it."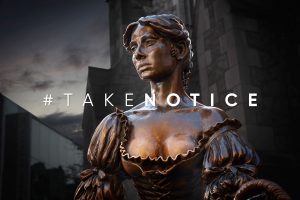 To make the stunt as authentic as possible, a key consideration was for the lump to be subtle. Commenting on this process Stephen Rogers, Creative Director at ROTHCO says: "We were so lucky to get to work with an amazing team on this project. We knew there would be huge production challenges in creating and covertly attaching a lump to a bronze statue – especially one that has the amount of attention that Molly Malone has. We worked with the Emmy-nominated Joe Fallover, Ireland's leading VFX specialist, to create, apply and bed in the lump. Molly Malone is a central character in this film, and it was important to us to instil emotion in her. We also had to capture the sheer volume of attention that Molly and her breasts receive. The final part of the project was the soundtrack. We knew the well-known song, 'Molly Malone', would be perfect for our film but we needed to find a more emotive, atmospheric take on this traditional song. We decided to reach out to Imelda May, who had worked with Marie Keating before, to see if she would record a bespoke version of the song and luckily for us she was very happy to get involved in the project."
Liz Yeates, CEO of the Marie Keating Foundation and breast cancer survivor says: "Early detection saves lives. It's that simple. Through its nursing outreach and cancer awareness campaigns, the Marie Keating Foundation promotes the importance of being aware of the signs and symptoms of all the common cancers. This year we are marking 20 years fighting cancer following the passing of Marie Keating, another proud Dublin woman, from breast cancer 20 years ago. If Marie had been more aware of what to look out for and gone to her doctor sooner she would most likely still be alive today."
She continues: "Being breast aware is so crucial to give women the best chance of getting advice and treatment as soon as they may need it. This 'Take Notice' campaign hopes to bring this to the forefront of the public's mind and encourage women to be more breast aware by using the most famous pair of breasts in Ireland. If a lump on Molly Malone's breast can go unnoticed then it reinforces just how important it is that women take notice and make self-checking part of their everyday routine. Know your 'normal' so you can act immediately if you notice any changes."
Source: ROTHCO | Accenture Interactive