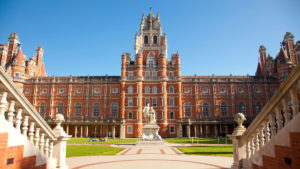 Royal Holloway, University of London, has appointed Splendid Unlimited to transform the institution's website experience to communicate its reputation as one of the UK's best universities.
Royal Holloway is ranked in the top 200 universities in the world. This is due to its world-class research, its dedicated teachers and the close-knit community on campus that inspires individuals to succeed there.
Splendid Unlimited's task is to develop a digital platform to better communicate the university's strength to current and prospective students in the UK and abroad. In addition, the brief is to ensure the website meets the needs of other key audiences, include alumni, current and potential partners and research collaborators and those looking to use the university's resources for conferences and events.
The new offering will be a consistent, personalised and immersive digital experience across the university's online content, one that demonstrates the factors that make Royal Holloway stand out from other higher education institutions. It will bring to life what it feels like to be a part of the Royal Holloway community.
James Dodd, Head of Digital at Royal Holloway, University of London, said: "We're delighted to be working with Splendid Unlimited to create a truly user-focused, modern and impactful website for Royal Holloway. The website will reflect our fantastic community and the success it fosters in the individuals that study, work and visit here. We look forward to harnessing Splendid's expertise and creativity to help us create a digital experience that helps the university to stand out from the crowd."
Paul Bishop, Managing Director, Splendid Unlimited, said: "Our proposition for Royal Holloway is the promise to un-think the usual digital experience seen across university websites and deliver our own, forward-thinking digital experience for the university's online community, which we are pleased to now get stuck into."
Source: Splendid Unlimited