After announcing that he's expecting his second child, Andy Murray received more giant news on July 3 – when Paddy Power erected the daddy of all tributes to the British No.1.
The iconic Cerne Abbas Giant – recognised as a symbol of fertility – served up a tennis storm, in a stunt organised by the bookmaker.
Confused Dorset locals arose to the ballsy creation this morning which saw their famous chalk figure – usually armed with a giant club – instead holding a tennis racket and tossing a ball.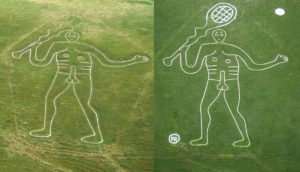 Dubbed 'the rude giant' thanks to his own set of balls, the Giant – which dates back to the 17th Century – attracts thousands of visitors each year.
The chalk figure looked even more aroused than usual this morning as he enjoyed a toss to open up the start of the tournament.
The stunt marks what Paddy Power is calling a 'tennis betting bonanza' over the next two weeks, with more than £650m expected to be staked across the bookmaking industry – smashing previous records.
Spokesman Paddy Power said: "We didn't need Hawkeye to help us spot that the Cerne Abbas Giant was 'excited' about Andy Murray's baby news, and what better way to mark the start of the tennis than to give him a racket and ball? It was an early start and it looked like there were a few worried locals, but it turned out to be morning glory. At least we stuck to the all-white policy with the tarpaulin and hopefully no one gets a hard-on over it, as it was all just a bit of fun."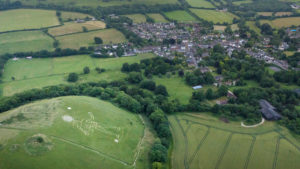 The bookmaker's cheeky stunt, which was completed under the cover of darkness this morning, took a six-strong team equipped with night vision goggles just over three hours to complete, using a whopping 255 SQ M of tarpaulin and 250 tent pegs.
Johanna Konta Proving a Smash Hit with Punters
Despite Brits warming-up their vocal chords for two weeks of screaming "C'mon Andy", those cheers of support might be better aimed at top British female hope Johanna Konta.
Both British hopefuls have had an injury-interrupted build-up to the tournament but Paddy Power has seen an unprecedented number of bets on Konta to win her first major – by far the most supported Brit at this year's tournament.
Other chunky bets include £50k and £25k on Roger Federer to win a record eighth Wimbledon title, while Rafael Nadal is Paddy Power's biggest loser in the book.
To celebrate the biggest week for British tennis, the bookie has also released a series of betting specials.
Source: Taylor Herring