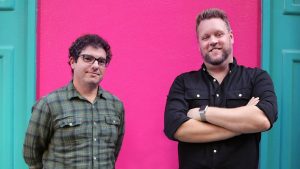 San Francisco-based independent agency TBD announced the appointments of Jeff Burger as Engagement Planning Director and Robert Woods as Senior Account Director. The pair bring their own unique experiences to TBD's team of extraordinary creators.
Prior to joining TBD, Jeff Burger spent his career working in the Bay Area at agencies including Exile on 7th, Agency.com, and Venables Bell & Partners. His passion is data, analytics, and all things digital advertising. Burger's expertise with integrated campaigns helped TBD land their first major business win, global AOR for Nokia Health, earlier this year and, as TBD's Engagement Planning Director, Burger will oversee everything from channel planning to digital production.
"I love that TBD is a creativity-driven organization," says Burger. "Being able to take creative ideas and make them relevant in a digital ecosystem is what truly excites me, and TBD shares that vision."
Robert Woods is a native Texan and began his time in advertising at agencies SicolaMartin and GSD&M, before making his way up to San Francisco to work at Venables Bell & Partners and ARGONAUT. Over the course of his career, Woods has worked with notable brands like HBO, Kohler, Google, Audi, Intel, Ebay and Cricket Wireless. As TBD's Senior Account Director, he will be instrumental in helping TBD continue to grow and lead.
"It's not often you meet and get to work with people who share the same passions as you. TBD's values and the roster of innovative, ethical, and mission-driven clients speak to me in a truly authentic way," says Woods. "There's a real purpose to the work they do and I'm so grateful to be a part of that."
"It's incredibly exciting to welcome Jeff and Robert to the TBD family," says TBD CEO Warren. "They both bring unique super powers to the team and share a genuine passion for our values – diversity, integrity, and a commitment to truly making a positive difference in the world."
Source: TBD