Scarecrow Communication has created an integrated campaign for FreshLook – one of the world's largest selling coloured contact lenses, featuring upcoming Bollywood star, Disha Patani.
The ad film has been directed by award-winning film director Harvey B-Brown whose body of work includes spots for Moschino, Lagerfeld and music videos for George Michael and Bryan Ferry.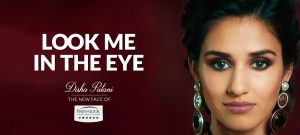 Anuj Mehtani, Vice-President, Scarecrow Delhi commented: "It's really interesting to see how many categories are evolving from pure functionality to a desirable space, which is happening in the Eye Care category as well. FreshLook is set to tap with its fashion and lifestyle proposition and we are excited to be a part of this engagement process."
Iraj Fraz Batla, Executive Creative Director, Scarecrow Delhi said: "We wanted to peg FreshLook colored contact lenses as a fashion brand. We've experimented with a fresh form of advertising storytelling. The tonality we wanted to set for the brand guided the structure of the ad. What aids the brand to express its attitude is the clever choice of the endorser – India's biggest Instagram celebrity – Disha Patani."
Raghu Bhat, Founder Director, Scarecrow added: "The task is to create salience for color contact lens and make it mainstream. We are talking to an audience craving for a daily dose of fame. The creative opportunity was to position eyes as the prime weapon of choice – where Freshlook colored contacts could be your fashion ally in the daily war against anonymity."
The ad film premiered during the screening of the Miss World Contest in December. The digital campaign, powered by social, video, search and blogs is set to rollout soon.
Source: Scarecrow Communication