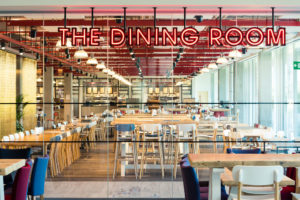 Sky has unveiled Sky Street, its new food and beverage space designed by creative consultancy Sedley Place. Sky Street comprises of seven bespoke eateries, all housed within Sky's latest edition to its Osterley media campus, Sky Central.
The work follows Sedley Place's design for a number of other restaurants in Sky offices in London and Scotland, including The Kitchen and The Loft which launched last year as part of Sky's desire to make health and wellbeing at work an increasingly central plank of broadcaster's employer brand.
Sedley Place has worked closely with Sky and Sky's food and beverage provider Gather & Gather, as well as alongside workplace interior designers AL-A, Hassell and PLP, to create seven new spaces that reflect the high street and modern trends in eating, rather than the traditional corporate canteens.
Central to Sedley Place's creative concept is the combination of the visual attractiveness of the food and food preparation – a feast for the eye – with the pleasurable aromas of fresh food and elements including barista-prepared coffee. All the spaces have been created with a particular focus on a materials palette that encourages relaxation, informal break-out session and longer relaxed dwell times.
Sky Street features both casual and formal dining experiences including: The Restaurant, The Dining Room, The Barn and The Shed.
The Dining Room is the largest space with capacity for 375 diners at any one time. The Dining Room serves over 1,700 meals a day and provides 3 main offerings which change daily.
The Restaurant offers employees a fine dining experience with table service and open kitchen that can be separated from the main dining room to offer a personal and more formal atmosphere.
The Barn and The Shed offer quick service food offerings with furnishings that can provide spaces for both individual and collective preferences.
The Garden showcases fresh produce and features a glass walk-in produce room and is a visible representation of Sky's commitment to the health and wellbeing of its staff
The Cinema, part of Sky's screening room features foyer counters to buy refreshments such as fresh popcorn for staff before  they head into the theatre
19 East is a quick service coffee bar which provides a space for visitors to enjoy a drink while waiting for a meeting, or for employees to use one of the informal meeting spaces.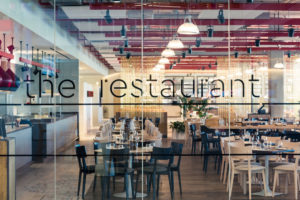 Sky Street is the latest addition to Sky's Osterley campus in West London, an important element in the broadcaster's on-going plan to stitch the various buildings on the campus together into a cohesive whole. It runs along the North-South axis of Sky's newly-built Sky Central, which houses more than 3,000 employees and has been especially designed to create a modern, amenity-rich workspace that reflects Sky's multi-modal flexible way of working. .
Sedley Place's concept is sympathetic to the Sky building's design aesthetic and its use to create a free-flowing, dynamic spaces that not only provide excellent food options, but also act as places to congregate, host informal meetings and encourage people to socialise.
Chris Stylianou, chief operating officer at Sky, said: "The feedback we have received since opening Sky Street has been overwhelming positive from all of our staff.  The environments are some of the best I have ever seen in a corporate environment and I will continue to enjoy them for many years to come."
Mick Nash, managing director at Sedley Place, adds: "Sky has always seen food and drink as an exceptionally important part of the total work environment. Sky wanted to avoid out-dated canteen spaces and offer a range of different options to its staff. Our response was to create a series of food spaces with inspiration taken from the high street and modern dining trends. All of the spaces we created had a particular focus on a specific material palette that would encourage relaxation, informal breakout sessions and longer dwell times."
Source: Sedley Place