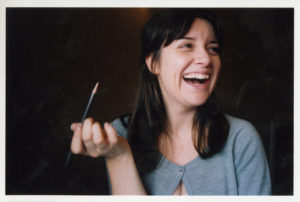 Global creative group SEEN has appointed British VOGUE's former beauty and health director Nicola Moulton as its new creative director. Moulton will also spearhead SEEN Group's new global content and creative development division, Studio SEEN.
In her new role at SEEN Group, Moulton will oversee the development of all creative across the group's divisions – Beauty SEEN, Be SEEN, Social SEEN, SEEN Creates and V-SEEN. She will also head up its latest division Studio SEEN, handpicking teams for each client project based on their outstanding knowledge and insights. Moulton will also identify key trends and predict cultural shifts that inform the way beauty consumers trial, buy, use and talk about products.
Studio SEEN will produce eye-catching content for the beauty, health and wellness sectors, guided by Moulton's trends insights and immense knowledge built over close on ten years at VOGUE. This powerful creative hub will bring together designers, writers, photographers, videographers and digital creatives to produce the very best beauty, health and wellness content in the industry.
Trends and insights identified by Moulton and the Studio SEEN team will also be available across the SEEN Group for the benefit of all clients, providing them with a unique competitive advantage.
Moulton joins SEEN Group direct from her position at British VOGUE, which saw her create award-winning beauty content for the world-renowned fashion publication for almost ten years. Moulton is a household name in the beauty world, highly respected for her ability to predict and identify key trends before they become part of the mainstream.
Moulton will report into SEEN Group CEO Michelle Boon.
Michelle Boon said: "Getting someone of Nicola's standing to join SEEN Group is testament to our reputation and acknowledges the expertise and passion we are known for. Nicola is one of the biggest and most respected names in the industry and she is a really exciting addition to the team. People talk about transformational talent, and Nicola is truly such a person. She will allow SEEN Group to continue to pioneer an ever-evolving approach to PR, communications and creative that will allow us to provide our clients with the most forward thinking ways of working. Nicola will be instrumental in delivering on our ambition as the leading specialist global agency across the beauty, health and wellness industries."
Nicola Moulton said: "Where do you go from Vogue? That's the big question I had been asking myself. After ten years at the pinnacle of style and journalism my next move had to be something special and take me in a new direction. The world of content and consultancy is hugely exciting and I'm keen to be part of its future, using my skillset to forge a new direction working directly with brands and people. In my new role, I get to play a real part in impacting what brands do and how they develop. I bring them to life, helping them to speak to the consumer in a new commercial, but creative way, always with integrity and with that unique point of difference that is delivered through my deep understanding of this category."
Source: SEEN