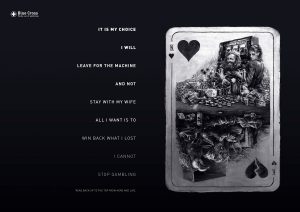 Millions of Germans suffer from or are on the verge of addiction. The "Blaues Kreuz in Deutschland e.V." (Blue Cross Germany) helps these people, yet too few people are aware of their work. To elevate awareness of the Blue Cross, Serviceplan Campaign together with Serviceplan Health & Life employed a form of copywriting mechanics to create "Reverse Poems". The message: with Blue Cross you can turn your life from negative to positive.
The creative idea originated directly from the daily work of the Blue Cross. For an addict there is just one direction: down. But support groups can really help rise above the addiction and climb back up to the top. To turn this insight into a campaign, Serviceplan Campaign employed a special form of copy: Reverse Poems. Read from the top down they describe the negativity of an addiction.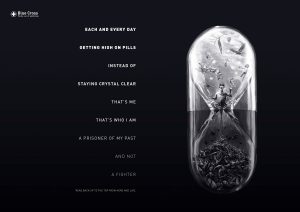 Yet, read from the bottom up the same copy describes a positive life from the perspective of a recovered addict. Serviceplan Campaign combined three different texts, which addressed addictions to gambling, alcohol and drugs, with original illustrations by Frank Gräfe visualising each addiction.
The print campaign will be published in lifestyle magazines in December 2017 and January 2018. 'Reverse Poems' have been featured on indoor posters, resulting in a remarkable increase in traffic to the Blue Cross website, with many more addicts seeking help from the Blue Cross as a result.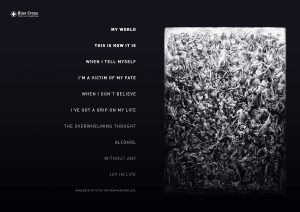 Sandra Loibl, Executive Creative Director, Serviceplan says of the creative concept behind the campaign: "When we had the opportunity to create an awareness-campaign for the Blue Cross Germany, we thought Reverse Poems would be the perfect way to express what the organisation stands for. With the help of the Blue Cross, an addict can turn his or her life around from negative to positive. To have Frank Gräfe to do the visuals was the best that could have happened to the work. His illustrations are just as meticulously crafted as the poems. We're happy that the number of website visitors and people seeking help from the Blue Cross is constantly increasing since the start of the campaign."
Source: Serviceplan Group