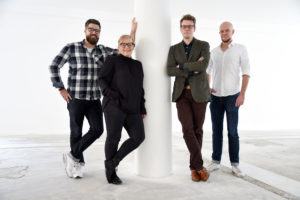 The Plan.Net Group is now offering an even wider range of products and services from the House of Communication Hamburg. The Group has further distinguished its digital service offering by founding Plan.Net UX, a new agency specialising in consistent user experiences and intuitive front-end solutions. Managing Director Christoph Mecke heads up the new agency. He can call on almost 20 years' experience in interface design, and has led Plan.Net Hamburg since 2015 as a partner together with Diana Degraa.
"To ensure that companies are successful and well prepared for the future in this age of digital transformation, it's important that they offer the right customer experiences. Digital products, services and platforms are playing an increasing role here. As such, it's becoming more and more important to focus on strategic development, design, prototyping and testing work for user interfaces. The design of the front end is a key factor in ensuring both a company's success and brand recognition in the digital age. That's why we see great potential for the solutions provided by Plan.Net UX. The new agency enables us to respond perfectly to key issues and requirements related to digital transformation in the UX sector. With his extensive experience and passion, Christoph Mecke is the ideal person to lead the new agency," comments Klaus Schwab, Managing Partner of the Plan.Net Group and the person in charge of the Hamburg site.
In addition to designing websites, Intranet systems, web tools and apps, Plan.Net UX also focuses on new and innovative platforms where the interface conventions are still being developed. One example of this is virtual and (increasingly) augmented reality. In its work, the agency always aims to incorporate the Serviceplan Group's brand philosophy in its user-based concepts, designs and development work for digital user experiences and front ends – literally the consumers' "touchpoints" with brands on a screen.
"If your user experience, such as an app, is not intuitive and convincing from the outset and fails to provide an engaging product experience, consumers will immediately turn to your competitors. That's why it's so important for platform and product experiences to create lasting, sustainable brand experiences from the very beginning. This is precisely what we're striving to achieve with the digital products that we're developing for our clients at Plan.Net UX – we want to bridge the gap between brand communication and the corresponding digital products," explains Christoph Mecke.
Before he joined the Plan.Net Group, the 46-year-old was co-founder and Managing Director of the Liquid Campaign agency group, which was gradually integrated into the Serviceplan Group from 2011 to 2015. The last site to be integrated was the Hamburg site, which became Plan.Net Hamburg. Prior to this, he was Director of Innovations at BBDO Interone Worldwide, where he was responsible for the "Innovation Authority", the "R&D department" at the agency group. He has been developing front-end concepts for numerous clients from all sectors since 1998, including Allianz, the BMW Group, Coca-Cola, Deutsche Post, Lufthansa, Postbank, the ProSiebenSat.1 Group and Tchibo.
The founding team at Plan.Net UX currently consists of ten staff, managed by experienced specialists who have already supervised UX projects for market leaders. These include Mathias Becker (Experience Strategy & Development), Kevin Eschweiler (Creative Director) and Dorothea Iwanski (Consulting). Working with them as a team, Christoph Mecke is charting a course for growth from the very outset: "We're aiming to significantly expand the team by the end of this financial year, i.e. by mid-2018. The client enquiries we're already receiving prove how important user experiences and interfaces are to companies and brands as a separate discipline."
Plan.Net UX's client base in the pilot phase includes Metro Cash & Carry, Deutsche Telekom and DZ Bank.
As such, around 50 people now work for the Plan.Net Group in the House of Communication Hamburg. Plan.Net Hamburg will continue to be managed by Diana Degraa together with her appointed Directors Sebastian Donat (Media) and Dr Tillman Bardt (Campaigning and Content).
Source: Serviceplan Group