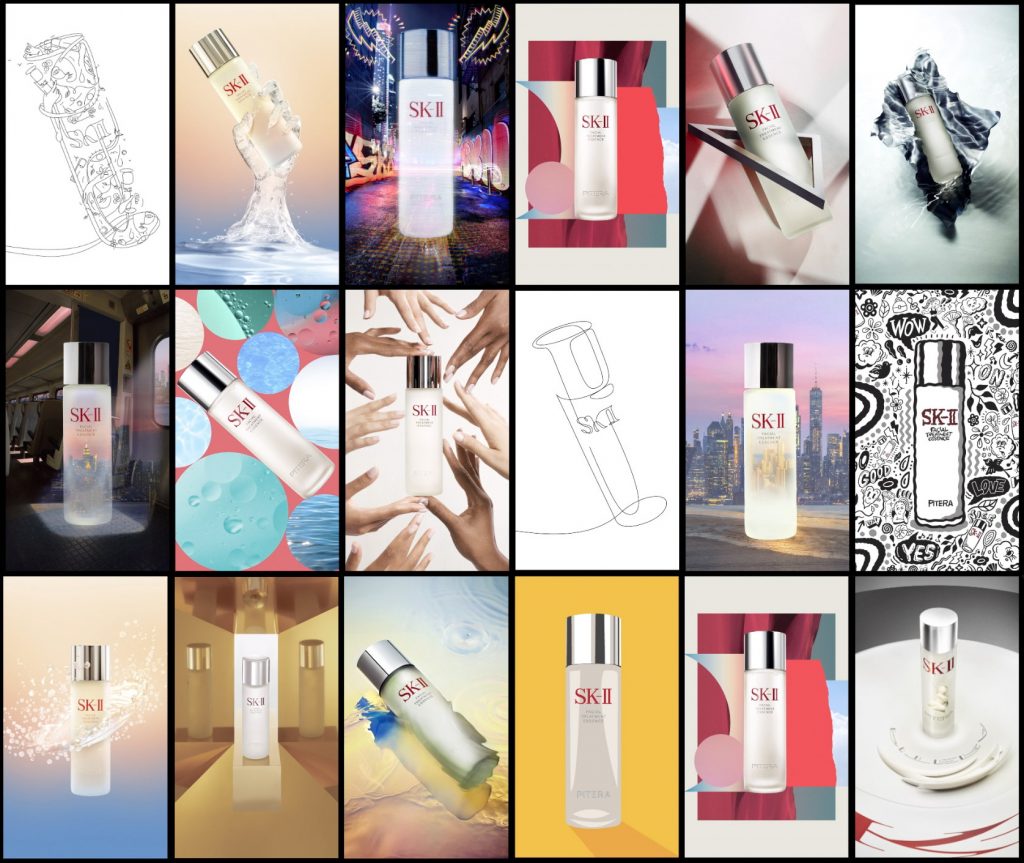 Japanese beauty brand SK-II is showcasing the power of collaborative art with a boundary-pushing immersive campaign for its iconic skincare ingredient Pitera™. Great Guns and its production centres worldwide united to create a unique marriage between art and product with a project that spans a first-of-its-kind skincare exhibition in Shanghai, a collection of striking artistic responses, and a manga-inspired store design at SK-II's flagship outlet in Tokyo.
Opening Ceremony co-founder Carol Lim took on the role of Creative Director on the immense project, curating the artistic output whilst Great Guns took the lead on all production of film, animation, photography and event designs across the globe. Over a period of 18 months, Great Guns assembled artists from numerous disciplines to create art that celebrates SK-II's iconic ingredient, producing the SK-II Artist Series: Power of Pitera™.
The artist series is the largest artistic undertaking in SK-II's transformation journey and one of the world's biggest beauty and art crossover programmes. Spanning interpretive dance, illustration, sculpture, and photography, the campaign tells the story of its iconic hero ingredient. Discovered in a sake brewery in Japan – prompted by the sight of an old brewer's surprisingly youthful-looking hands – Pitera™ is extracted through the fermentation process and was transformed into SK-II's anti-aging ingredient.
The project includes a series of surreal illustrations by Ram Han entitled Pitera™ is 'Legendary' which is inspired by SK-II's heritage story and the discovery of Pitera™. It takes the viewer on a historic journey through an all-enveloping 40ft animated dreamscape of sound and vision, ultimately revealing the modern-day SK-II Facial Treatment Essence.
Art magazine Toiletpaper, meanwhile, produced a series of images inspired by a single drop of Pitera™ in Pitera™ is 'a Miraculous Drop'. The bold collection shows several women interacting with large-scale drops of the product and is displayed in a room itself lit by hand-blown glass drops.
Pitera is often marketed as delivering "crystal clear skin." Taking this as her inspiration, Zhong Lin photographed SK-II brand ambassadors and actresses Tang Wei and Ayase, showing them off in floor to ceiling dynamic diptychs to emphasise their vitality and beautiful skin. The striking photography series is entitled Pitera™ is 'Crystal Clear Skin'.
The 'Pat-Pat' motion of applying Pitera™ is also transformed into a dance routine by choreographer Ryan Heffington in Pitera™ is 'Pat Pat'. Shot in Los Angeles through Great Guns LA, the piece brings a sense of youth and fun to the project and is displayed on three giant interacting screens within its own exhibition room.
Finally, Pitera™ is 'Iconic' debuts a series of works from a creative collective of artists from around the world, reinterpreting the iconic essence with an experimental collage. The piece comprises of various art forms including painting, illustration, sculpture, and photography and are currently featured in an exhibition in Shanghai.
Great Guns CEO Laura Gregory comments: "A legendary product and a visionary client came together with a group of world class artists to re-imagine the story of Pitera™. It's been a crazy year shepherding this outstanding group of creative superstars to get to the launch at Columbia Circle in Shanghai this weekend. SKII ambassador Tang Wei and Opening Ceremony's co-founder Carol Lim were there with the SKII team cutting the tape to launch the resulting popup. Take my word, it's a spectacular experience."
The campaign launched globally on November 9th with an exhibition in Shanghai open from November 9th to 24th. The Matsumoto Kiyoshi, Ikebukuro flagship store in Tokyo, featuring SK-II's first ever art-inspired store design, will open its doors in early December.
A list of artists on display include: 
Ryan Heffington
Toiletpaper
Ram Han
Zhong Lin
Kang Hee Kim
Remo Camerota
Rosanna Webster
Chocomoo
DFT
Jonty Hurwitz
Mitch Payne
Source: Great Guns