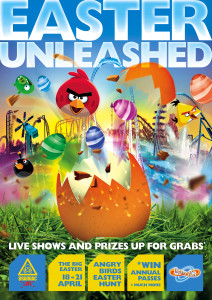 To celebrate Easter at Thorpe Park, Space is bringing Angry Birds to life with an experiential event at the Resort over Easter weekend. The Big Easter Hunt supports the launch of Angry Birds Land, and teases the Angry Birds 4D animation experience and themed land opening at Thorpe Park Resort next month.
The Big Easter event will take place at Thorpe Park Resort between Friday 18th – Monday 21st April and feature a special Angry Birds Easter Hunt at the heart of the on-Park activity.  Targeting their family audience, Easter Hunt participants will be required to locate Angry Birds characters, solve riddles and complete crosswords in order to gain the password to receive a free chocolate Easter egg.
The Angry Birds themed activity is further amplified across social media as participants will be given the opportunity to win Thorpe Park Resort Annual Passes by uploading a photo of themselves with their favourite Angry Birds character to Instagram or Twitter with the hashtag #BIGEASTER.
Space, a creative agency who specialises in brand intimacy, has worked with Thorpe Park Resort over the last twelve months on experiential and promotional projects including the idea and creative work behind Thorpe Park Fright Nights last November. This time, Space has developed the idea of the Easter Hunt to engage all audiences in the future Angry Birds experience, dramatising the excitement that the Angry Birds brand will bring to the Park in May, but also to enhance the Easter experience with a relevant and participative activity for the long weekend. The activity ensures the theme park celebrates the long weekend in style, by providing additional entertainment and attractions to bring the experience to life.
Natalie Moore, brand partnerships manager at Thorpe Park Resort said: "Our Angry Birds themed land is a hugely anticipated addition to the Thorpe Park Resort. We are premiering the world's first Angry Birds 4D animation experience and bringing the characters home to roost on Detonator – the Resort's 100ft rapid drop tower ride.
"Angry Birds has a strong following with families, who we've created this experience for. While officially opening in May, we wanted to offer visitors a little taste of what's to come from our partnership with Rovio and Angry Birds. Space has created a fun activity for families that plays on the theme of Easter and the Angry Birds characters perfectly."
Jim Carless, head of client services at Space said: "Angry Birds exist chiefly in a digital world, so our challenge was to create an experience that would create intimacy between visitors to the Resort and the game's characters. With the 'Angry Birds themed Easter Hunt', we've taken some of the game's magic and created an engaging experience that closes the physical and emotional space between visiting families, the park and the Angry Birds game – with a nice Easter reward at the end!"