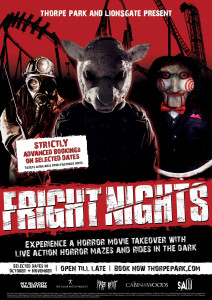 Space has been working with Thorpe Park – home to some of the world's finest coasters – to help bring the its annual Halloween event Fright Nights to life through  refreshed branding and communications creative.
Thorpe Park guests will experience a horror movie takeover this Halloween as the Park and leading global film producer Lionsgate UK present Fright Nights.
Iconic movie horror attractions will be brought to life in terrifyingly entertaining immersive live action mazes inspired by scenes from classic Lionsgate thrillers The Cabin in the Woods, My Bloody Valentine 3D, The Blair Witch Project, Saw and You're Next.
Space has refreshed the Fright Nights identity to encapsulate the look and feel of a premium horror movie poster. The creative features three iconic horror movie villains including 'Billy the Puppet' from SAW set against the silhouette of Thorpe Park's most thrilling rollercoasters. A colour palette of red and black conveys the key signature of horror films; blood, danger, evil and mystery, while text is in white for cut-through.
The Fright Nights creative will also be used across various Park assets including its digital and social channels, as well as via posters and ride communications around the Park itself.
In addition to the live action horror attractions, visitors can brave some of Europe's most exhilarating thrill rides into the dead of night including The Swarm, the UK's first winged rollercoaster, Stealth, one of Europe's fastest rollercoasters and the world's most terrifying coaster, SAW – The Ride.
Fright Nights will take place over selected weekends and half-term week 5 October to 3 November.
Jacqueline Lucas, brand manager at Thorpe Park said: "From the outset, Fright Nights has been a hugely successful initiative for Thorpe Park. This year's events will be the Park's biggest in 12 years and promises to be horrifically immersive and brilliantly entertaining. The refreshed communications by Space convey the sinister and fun aspects of Fright Nights in a clear and appropriate fashion for our thrill-seeking 16-24 year old audience."
Jim Carless, head of client services at Space said: "We are really excited to have been given the opportunity to work with Thorpe Park on this project which is all about bringing the featured horror films to life through the creative and branding. Thorpe Park's partnership with Lionsgate UK provided us with plenty of inspiration and the opportunity to deliver stand out creative that encapsulates the essence of a horror movie poster, while clearly communicating the attractions of this year's Fright Nights."