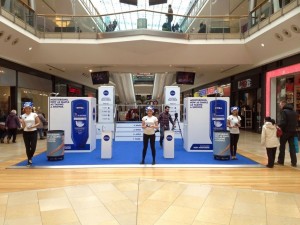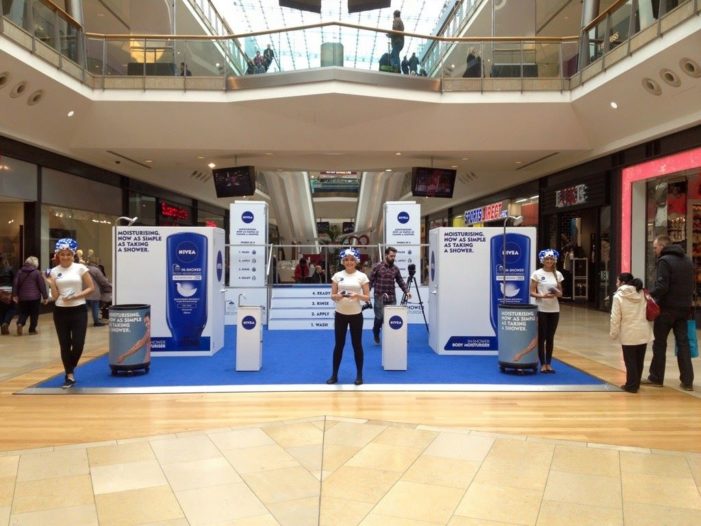 Up-close and personal experiential activity developed by creative agency Space, will allow shoppers to try NIVEA In-Shower Body Moisturiser for themselves at Birmingham's Bullring Shopping Centre and Bluewater in Kent. Activity will run from mid March.
Following a competitive three-way pitch, Space was tasked to develop activity to raise awareness of this NIVEA product, and dispel potential confusion around its use. Space has planned activity in each shopping centre that will familiarise consumers with the product and answer queries around usage and benefits.
Space has designed high-impact branded installations that will feature fully frosted showers, along with changing rooms where shoppers will get the chance to try NIVEA In-Shower Body Moisturiser first hand. Brand ambassadors will be there to answer questions and to demonstrate that moisturising is now as simple as taking a shower
Consumers who wish to take part in this unique experience will receive a full kit consisting of swimsuit, flip–flops, shower caps, robe and towel, as well as an exclusive £20 shopping voucher as a reward. For those who prefer a less 'full-body' experience, the installation will include sinks for hand-testing of the product.
This promotional activity which is part of a multi-channel campaign, supported by FCB, MEC and Porter Novelli, will see an estimated 100,000 50ml samples of the product handed out together with money-off vouchers for purchases in Boots.
Victoria Westwood brand manager from NIVEA said "The Space team has created a fun and innovative activity to educate people on the simplicity of using this game-changing product that will educate and entertain as well as stand out in the busy shopping environment. This high impact, slightly daring initiative will help the brand communicate directly and live with shoppers.
David Atkinson, managing partner at Space said "NIVEA has never been shy to demonstrate its products in the most dramatic of conditions. Asking people to have a shower in front of thousands of other shoppers is disruptive and engaging and this will capture attention and intrigue to get our message across. A brave brand experience for brave shoppers."
The NIVEA stands will appear at the Bullring from March 12-15th and Bluewater from March 17th –23rd.