Since moving their entire operation to new premises in 2018, The Mitsubishi Pencil Co Ltd have been working hard to improve the company's sustainability and carbon footprint credentials across their whole business.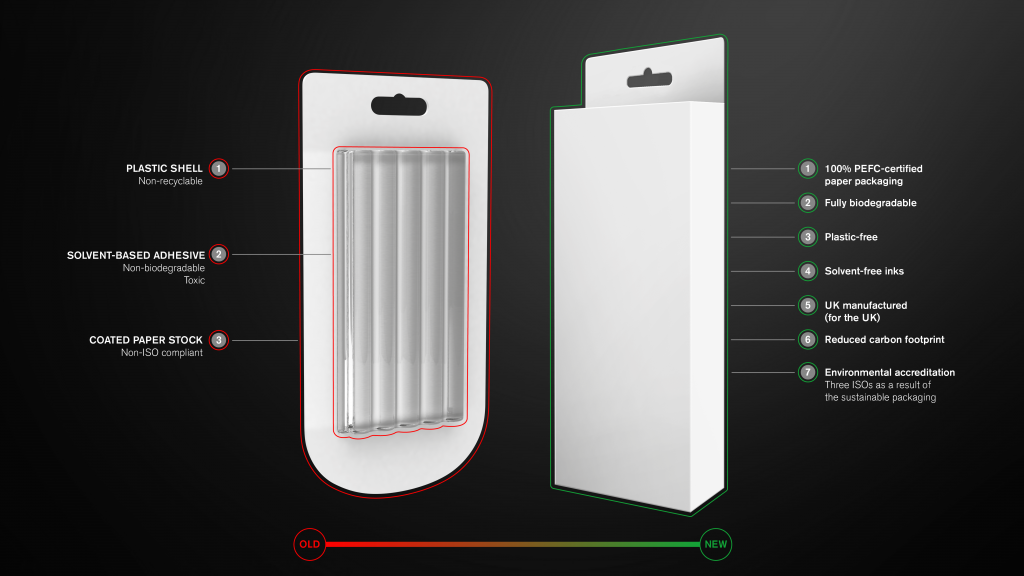 The Mitsubishi Pencil Co Ltd came to Taxi Studio with a brief to develop the strategic thinking for the Uni-ball brand that will allow it to become the most iconic and distinctive brand within its pen category. With real planet-first thinking at the heart of their brief and their company, the red thread (or should that be green thread) was also one of sustainability.
With Uni-ball pens in hand, Taxi unpicked and scrutinised each element of the brand to piece it back together with a new forward-thinking plan.
An insight study carried out by Taxi provided fresh thinking for Uni-ball. Paul Smith, Director of Sales and Marketing at MPCUK, said: 'Initially Taxi Studio's insight study of the category really gave us an honest and fresh evaluation of the market. We could consider areas to improve the visibility of our products instore and online – benefitting both the trade and the consumers.'
These insights, coupled with the knowledge and experience of the team at Taxi, allowed for the creation of two key progression areas for the brand. The first addressed the brand's sustainability credentials, and in collaboration with Uni-ball, Taxi facilitated the creation of 100% PEFC-certified paper packaging, which is plastic-free and fully biodegradable.Ink is solvent-free, and manufacturing is in the UK (for the UK), which has reduced the businesses carbon footprint.
The second focused on the consumer. Taxi re-organised the portfolio-architecture based on consumer buying habits, making range navigation much simpler for the consumer and for retail display, enabling more impactful brand blocking.
Validation of the thinking and creation of this brand refresh by Taxi Studio came not only in the form of an uplift in sales but also in the environmental accreditation of three ISOs as a result of the sustainable packaging.
Since launch the new design has gained additional distribution and visibility within the UK retail market, Uni-ball has increased its brand share within the writing instruments category by both value and volume[i].
Further validation of the success of the new portfolio-architecture came from a consumer insight study, in partnership with a leading nationwide UK retailer. It states that the new design is preferred by UK consumers and positively aids their understanding of the category and range selection and buying decision process at POS.
And Paul Smith concluded: 'I am absolutely convinced that with the proposals and recommendations from the team at Taxi Studio, our new range is both innovative within the market, but significantly we have seen a growth in sales since its launch.'
Source: Taxi Studio