Michelin, with the help of TBWA\Paris, releases an insider documentary about the intense countdown to victory at Le Mans 2013 through the eyes of Audi's and Michelin's teams.
The Michelin Man's brand get you inside the action through the production of a 15 minutes short-film, culminating piece of its recent content communication strategy. Three main objectives:
Generate affinity and recommendation among car enthusiast.
Engage the target with a strong insight: "the search of the exceptional to answer my need of real pleasure and safety."
Leverage and strengthen Michelin DNA: leading technologies, historical leadership in automotive high performance, its commitment in the most mythic races and partnership with the most premium brands.
A full digital plan supports the documentary launch: influencers, digital media campaign, VIP projections…
Le Mans may be behind us for the year, but as the hardest and most mythical endurance race, preparing for it never stops.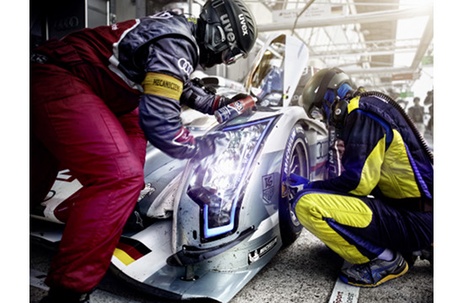 How do Michelin technical advisors support racing teams like Audi in real-time? How do they react when the weather is this unpredictable?
"24 Hours : A Matter of Seconds" is first of all an original content which offers exclusive behind-the-scenes footage of Le Mans, sharing the experience from the inside of Audi's pits. At Le Mans, all the teams have to give their best at every moment, during 24 hours of competition.
Top endurance drivers agree: the race can be won or lost on the tyre choice, and every second taken counts. Should they change for slicks if the rain stops?
Get insights from the industry's pros, from Michelin engineers to star drivers Benoît Tréluyer, Allan McNish and Tom Kristensen: race preparation, vital decisions that happen in a split second…24 hours of gruelling, unforgivable competition at Le Mans.