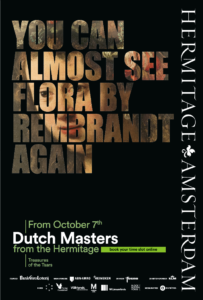 For the first time in hundreds of years, the Dutch Masters from the Hermitage St. Petersburg return to their home country – The Netherlands.
In this campaign, developed by TBWA\UNITED, rather than showcasing the greatest works of the exhibition on the streets and online, the full picture of these masters is never completely revealed.
The viewer is shown only a glimpse of the works, as paintings of such heritage deserve to be seen in all their glory. This concept – you'll only really see them at the Hermitage – is translated to an outdoor and online campaign including social films featuring well-known Dutch talents.
In the exhibition 'Dutch Masters from the Hermitage – Treasures of the Tsars', 63 works by 50 different painters will be flown over from the Hermitage St. Petersburg and temporarily exhibited in the Hermitage Amsterdam.
For this rare homecoming, a select group of national talents were asked to come and give their reaction to seeing the paintings, in real-life, for the first time. In the campaign films, artist Guus Meeuwis, designer Piet Hein Eek, and Olympic gold medalists Ilse Paulis and Maaike Head discuss what they see when looking upon the long-awaited masterpieces, however the camera doesn't give us a glimpse of what they are looking at. These reaction films invite viewers to go and find out for themselves.
Similarly, the print and digital elements of this campaign raise curiosity with enticing copy that partially reveals the genius of these Dutch Masters. The message is clear: you can only really see these Dutch Masters at the Hermitage.
Ben Hartman, Executive Creative Director at TBWA\UNITED, comments: "It has been a privilege to help bring the work of Rembrandt and other Dutch masters back home for the first time in hundreds of years. This story alone should be enough incentive to fill the halls of the Hermitage. Hopefully our creative idea, which teases this epic wait, will add to the anticipation and make it the blockbuster exhibition of the year."
Paul Mosterd, Deputy Director at De Nieuwe Kerk/Hermitage Amsterdam, comments: "For a creative company like the Hermitage, it's a treat to work with the professionals of TBWA\UNITED. Art and advertising has always been like a good marriage; from Andy Warhol to the Golden Age, we've inspired each other."
The exhibition opens to the public on October 7th, 2017. The Hermitage Amsterdam invites all to come and enjoy the paintings that haven't touched Dutch soil in centuries.
Source: TBWA\UNITED