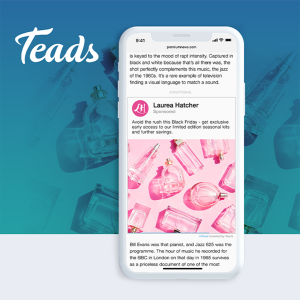 Teads, The Global Media Platform, unveils inRead Social, a new product enabling advertisers to extend social media campaign creatives to Teads' platform of premium publishers. Teads' inRead Social is designed to be a powerful, frictionless complement to brand's social media activations.
By leveraging inRead Social as an extension to existing social campaigns, brands can now benefit from Teads' significant reach in premium publisher environments. Teads provides 27.3 million incremental unique users beyond Facebook and 79.9 million incremental unique users beyond Instagram.
In the first 100 days of launch, Teads ran more than 100 video campaigns with this product from leading brands across the globe. On average, Teads in-view time for inRead social campaigns was nearly 8 seconds (as verified by MOAT) and delivered approximately 4x higher attention than Facebook or Instagram while driving superior results like reduced Cost Per Completed View (up to 40 percent in some instances observed). One of the reasons Teads outperforms social is because users scroll too fast in social feeds as opposed to premium publisher environments where they are actively engaged while consuming content.
Due to the strong in-view times compared to social feeds, Teads also guarantees higher video completion rates (VCR). In one study, Teads outperformed a global sportswear brand by 16 percent higher on VCR than that of social counterparts. Teads inRead social is also cost-efficient. Teads can now outperform cost-per-completed view (CPCV) and cost-per- click (CPC) by more than 2.5x on average.
"Social giants like Facebook and Instagram make it easy for advertisers to spend the lion's share of budgets on campaigns within their platform because their vast data sets and global reach are an attractive offering. It's time that brands have an alternative in the marketplace where they can reach net new audiences outside the walled gardens and achieve better in-view time while maintaining cost efficiency." says Bertrand Quesada, CEO at Teads. "I'm incredibly excited to bring inRead Social to the industry for the first time so that advertisers can reap the benefits of a 'curated garden' – one in which they reach highly engaged users in premium and brand safe publisher environments."
Elisabetta Corazza, Head of Digital at Danone said: "Innovation is a core value for all of Danone's products and digital advertising strategies so we often test new formats to reach our audiences. We leveraged Teads inRead social in campaigns for Actimel and HiPro, and saw great success. The product allowed us to reach new audiences faster and extend our digital media strategy by complementing what we already do on social platforms. It really surprised me how seamless it was to extend and expand the user base with a few clicks while maintaining the quality of our creative. Our results achieved 66 percent CTR lift above benchmarks for Actimel's campaign and over 137 percent lift for Hipro's campaign."[1]
Massimiliano Gaeta, Digital Leader for iProspect/Dentsu said: "As a media agency, one of our goals is to support our brand partners by always finding the most innovative technology to improve campaign results. Danone is one of the brands that pushes the boundaries because they understand the market challenges and adapt their communications. Knowing that users are constantly moving between social and traditional media environments, we delivered two campaigns for Danone's Actimel and Hipro products with Teads inRead Social, which provided the perfect complementary strategic approach to increase quality awareness. Teads once again proves to be a forward-looking player who is attentive to the needs of users and advertisers."
Massimo Palumbo, Head of Digital, PSA Group shares: "inRead Social is a great product that allows us to extend our reach beyond social platforms. We now have the ability to diversify our audience targets on both social media and premium publishers. Thanks to this technology, we have found an even more efficient solution in our strategic planning. The fact that we can make the creative assets of our Facebook and Youtube channels scalable in publishers' inventories is a big milestone for the industry. This has the potential for tremendous impact for our brand's exposure in a more wide way."
Source: TEADS