The word "the" is the most commonly-used word of the English language; it makes an appearance in around 80% of all written paragraphs.
To recognize its usage and usefulness, Melbourne-based Australian restaurateur Paul Mathis has created a new symbol as a short-formed substitute for "the".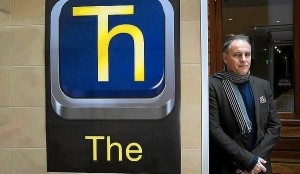 The "the" symbol looks like what happens when an uppercase "T" conjoins with a lowercase "h": 'Ћ'.
Like an ampersand (&) for "and", Ћ hopes to: save "penstrokes", "keystrokes" and "space"; make tweeting and texting more efficient; and be the "next step in communication evolution".
According to newspapers, Mathis has invested over US$60,000 to develop the Ћ symbol.
He's also created a range of mobile phone keyboards, the 'THE Keyboard'—with the most expensive in the range featuring shortcuts for 14 most-used words in the English language.
"The word 'and' is only the fifth-most used word in English and it has its own symbol—the ampersand," Mathis told The Age. "Isn't it time we accorded the same respect to 'the'?"