Toyota Hilux celebrates 50 years in South Africa this year with the launch of a new limited-edition model, the Hilux Legend 50. FCB Joburg brought this campaign to life, celebrating the role everyday legends have played in its success.
Incorporating numerous elements including cinema, television, radio, out-of-home, print, digital media, social media and point-of-sale, brochures and launches for dealers, the campaign was conceived by FCB Joburg's team of Creative Director Tian Van Den Heever, Art Director Jonathan Wolberg, Copywriter Paul Frade and Digital Content Lead Lucy Holford-Walker.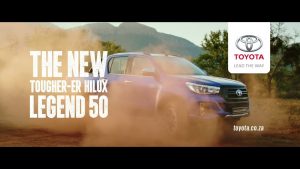 According to one of Toyota South Africa's advertising managers, Lensha Dlamini, the key objectives of the campaign addressed increasing sales for Hilux and enhancing the Hilux premium feel. Creating value for customers and assisting in volume retention was also key, as well as generating excitement around the brand, while retaining appeal to Toyota Hilux customers.
"The longest active model range in South Africa, that's 50 years and 47 of them as market leader with over one million units sold to date, Toyota South Africa Motors first created a bespoke limited-edition model aptly named Legend 35 in 2004 as a tribute to its success and rich heritage," she said.
"This was followed by the Legend 40 and Legend 45 in 2009 and 2014 respectively. With the calendar rolling over to 2019, the time for a new Legend arrived, to celebrate 50 years of local Hilux. But we wanted the new limited-edition model to do more than that. It has to work hard for us to drive purchase consideration, maintain high Hilux sales volumes and further entrench the 'Legend' sub-brand by driving awareness of the Hilux Legend 50 vehicle," said Dlamini.
For the agency, it was vital that the campaign did not get stuck in the quagmire of nostalgia and showcase bygone generations; it wanted to focus on what makes the Toyota Hilux itself a legend.
"For us, the legendary toughness of Hilux lives in the hands-on experiences of those who drive it — 'people who do'," said Executive Business Director, Reagen Kok. "Toyota has always built incredibly tough bakkies, but they've become legendary bakkies because of what people have done with them. At a key milestone in the legacy of Hilux, it only seemed appropriate to acknowledge the driver as part of this vehicle's legendary success."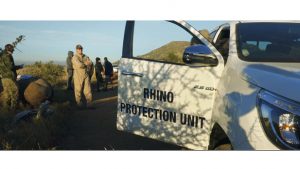 This sentiment is expressed not only in the campaign's pay-off line – 'The Hilux wasn't born a legend; it was made one by you' – but it also features across TVC and the cinema 40-second and 30-second executions, and filters through to all mediums.
For example, radio: 'If after herding cattle all day you still herd the kids to the bath (Legend!)/If you do the ice run in the middle of a braai (What a legend!)/If the only thing hard about the job is your hat (You Legend!)/If your Hilux's second coat of paint is mud (Legend! Legend!)'
Van den Heever added: "Importantly, Legend 50 is an opportunity to include the driver in the legendary success of Toyota Hilux. Aspirational as ever, we don't just want people to think, 'That's a nice bakkie — I want it'. We want them to feel proud and confident. We want them to connect with our comms, evoking the feeling that: 'That's my bakkie. It's a 'Legend' for what it is capable of doing and I'm part of that 'Legend' of doing too!"
Source: FCB Joburg