During the clash between Atletico Paranaense and Atlético Mineiro – two of the most important teams at the main football championship in Brazil, the Campeonato Brasileiro – goalkeeper Aderbar dos Santos Neto, aka Santos, surprised everyone with an attitude that nobody could expect.
The athlete, dear to the crowd and the man responsible for his team's security in the field, kept checking his phone a few seconds before the start of the match, something that could harm his attention and put his teammates at risk. The attitude caught the attention of fans and the whole sports press in Brazil immediately, triggering several critics of the goalkeeper.
The
day after, though, he revealed that his apparent irresponsibility was actually part of an Uber and Atletico Paranaense campaign for Yellow May, alerting people about how dangerous this action might be elsewhere: in traffic. "What I did on the field is the same thing thousands of people do every day in their cars. But getting involved in a traffic accident is much more dangerous than taking a goal", Santos said, taking advantage of the outrage that his attitude generated in people to ask them to stop using the cell phone while driving.
Currently, in Brazil, there are more than 400,000 road accidents every year, according to data from the World Health Organization (WHO). The use of cell phone is one of the main causes of traffic deaths in the country. According to the Brazilian Association of Traffic Medicine (Abramet), there are about 150 deaths per day, almost 54,000 a year. That's why Uber, in partnership with Clube Atlético Paranaense, decided to take this discussion to the football fields, where everything that happens becomes big news around the whole country in a matter of minutes.
The result was a daring move to mobilize millions of people around the world for awareness of safer traffic.
Credits:
Uber – Advertiser
Tech and Soul Sao Paulo – Agency
Flavio Waiteman – Creative Director/ Tech and Soul
Daniel Magri – Copywriter / Tech and Soul
Renan Bulgari – Art Director / Tech and Soul
Guga Dias da Costa – Art Director / Tech and Soul
Fernanda Machado – Creative Supervisor / Copywriter / Tech and Soul
Claudio Kalim – Account Director / Tech and Soul
Fernando Amino – Operation Director / Tech and Soul
Luiz Evandro – GP / Tech and Soul
Luiz Fernando Monteleone – Media Director / Tech and Soul
Luiz Gustavo – Media Assistant / Tech and Soul
Fernando Silva – Social / Tech and Soul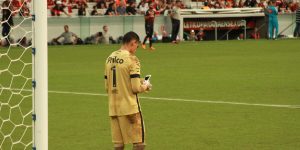 Gustavo Matusda – Social / Tech and Soul
Debora Santiago – Social / Tech and Soul
Adriana Gomes – Head of Marketing / Uber
Patricia Carvalho – Brand Strategist/ Uber
Tiago Urdan – Creative Director / Uber
Vinicius Siepierski – Associate Creative Director /Uber
Fabinho Cerdeira – Associate Creative Director / Uber
Guilherme Boechat – Marketing Manager / Uber
Cristiano Bunte – Content Manager /Uber
Mariana Polidorio – Public Policy /Uber
Mariana Boni – Legal Counsel, Transactions / Uber
Marcio De Meo – Communication Manager / Uber
Alan Troib – Regulatory Counsel, Legal / Uber
Source: Tech and Soul