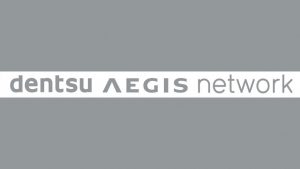 Leading advertising and digital communications group Dentsu Aegis Network has released its biannual forecasts, pointing to a more positive 2018 for global advertising expenditure than previously expected.
Ad-spend growth will rise from 3.3% in 2017 to hit 3.9% in 2018 – higher than the 3.6% forecast in January 2018 and taking total investment to US$613.5bn.
Global events such as the Winter Olympics & Paralympics, the FIFA World Cup in Russia and US mid-term elections will play an important role in stimulating growth.
Geographically, Asia Pacific and North America are the major growth regions, contributing 41% and 32% of the global increase respectively.  Western Europe accounts for 13% with Latin America at 8% and Eastern Europe 5%.

Investment in the UK market is now expected to grow in 2018 by +4.2% to reach £20.4 billion.  This growth is driven by a better than expected performance in Q1 and higher investment expectations around the World Cup.  Following slight growth in Q4 2017, the TV market continued to out-perform expectations in Q1 2018 with YoY revenues climbing by 5.1%.
The decision of the UK to leave the EU had an impact on the British ad industry, yet the wider geopolitical context isn't preventing UK companies from increasing their ad spending. Advertiser confidence levels have mounted over the last months in Europe, led by the United Kingdom.

Media Segments
TV: 2018 TV viewing is expected to fall further year on year with Q1 showing further significant declines already, following a continued trend as the shift away from linear TV towards online video, subscriber VoD and catch-up services shows little sign of tailing off.
Digital: Video growth on mobile-first Social platforms will be the biggest drivers of growth for Digital with Mobile (+24%), Video (+16%) and Social (+20%) all seeing the highest increases YoY.
Radio: Increased uptake in home assistant devices like Amazon Echo and Google Home have driven more digital growth and have also opened up different possibilities in how listeners interact with audio advertising. Digital audio listening continues to increase in the form of DAX and Spotify.
Our of Home: No relevant growth is expected for OOH ad spend in the UK.
Newspapers: An overall decline in print circulation has been registered, however there has been an increase in online readership for consumer magazines, which indicates that there is still a demand for magazine content.
Traditional media spend is forecast to decline in 2018 by -0.5% and by -0.4% in 2019. Traditional Newspaper spend declined by -9.4% in 2017, but in 2018 the rate of decline is forecast to improve -7.5% revised up from -7.9% previously forecast. However, the share of Newspaper spend will decrease by 1% to 8.1% in 2018 and 7.2% in 2019.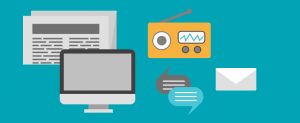 Despite good overall audiences, especially due to digital consumption and the demand for high-quality print content, the consumption shift towards digital media has not been fully monetised by media owners. Publishers are investing and preparing their data offering to improve their digital business performance and allow for programmatic buying across media and in real time.
Commenting on the latest forecasts, Rachel McDonald, Managing Director of Dentsu Aegis Network North, said: "In the context of synchronised economic growth across the US, Europe and Asia, these figures point to a more positive outlook today than at the beginning of the year and represent a modest but encouraging source of optimism. We are seeing upward revisions in most key markets, with emerging economies such as India showing high rates of growth. The US economy is growing strongly as economic stimulation and tax cuts filter through. Spend in China continues to grow at pace, though driven almost entirely by the eCommerce platforms, Alibaba, Tencent and Baidu. Digital remains the dominant growth area with 25% of global advertising spend expected to be delivered through mobile for the first time. Digital is now the leading form of advertising in 21 out of the 59 markets we track."
Key Global Ad Spend trends
Digital advertising will grow +12.6%, having the largest share of global spend with 38.5 %. Online Video, Mobile and Social will drive its growth up to US$230.9 billion.
TV advertising spend is forecast to regain strength in 2018 by +1.2%, following a -0.7% decline in 2017, remaining a major medium in the mix with 35.5 % of overall investment.  In 2019, the TV spend will continue the positive growth trajectory.
Digital to overtake TV for the first time. In 21 out of the 59 markets tracked, digital will be the leading advertising channel in 2018
Ad spend in online video (+24.6%) and social media (+21.6%) notably will lead most of the digital investment growth in 2018, even though paid search will continue to account for the largest share within digital with over 36 % of the overall spend.
Growth in OOH (+2.2%) is driven by Digital OOH.
Radio (+2%) and Cinema (+5.9%) spend are expected to show some growth over this year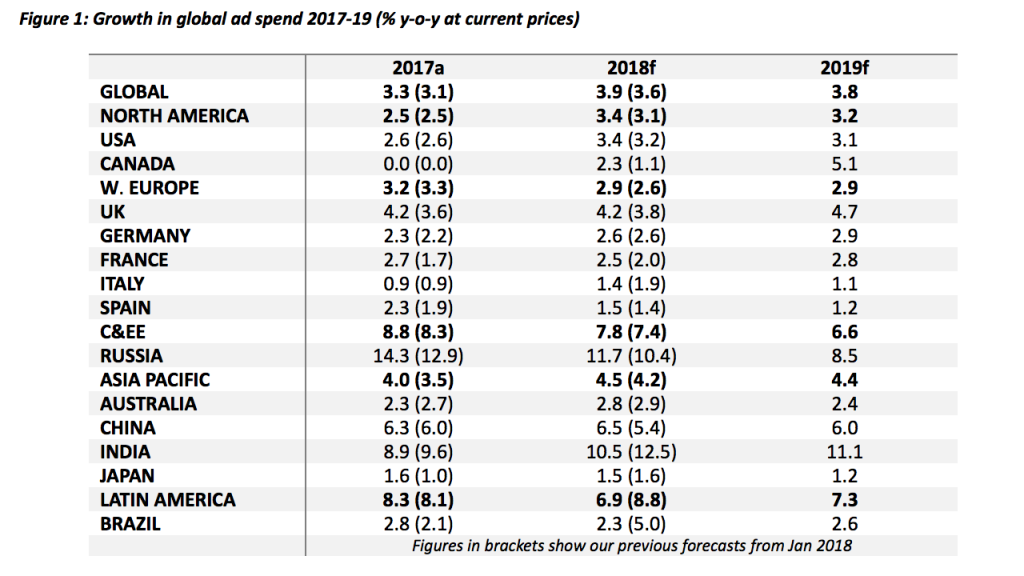 Global Media Trends
Mobile On The Go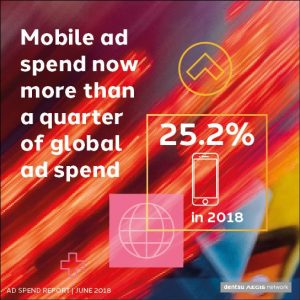 The mobile device is steadily becoming our primary point of access to all digital services and content. In 2018, 52.2% of all worldwide online traffic was generated through mobile phones, up from 50.3% in the previous year, according to Statista.
People now spend an unprecedented amount of time on their smartphones—more than five hours a day, according to some estimates.  This growth in usage is largely driven by the widespread availability of high-quality digital Video. Mobile Video consumption is exploding among all age groups and content categories. Nine in 10 Social media users opt for mobile browsing, with mobile apps accounting for 70% of time spent on Social media.
Reflecting this, mobile is forecast to represent a quarter of global ad spend 25.2% this year exceeding the previous prediction of 24.8%.  With Mobile payments forecast to be more popular in the coming years, Mobile is set to continue on a positive growth trajectory a forecast 23.3% in 2018 and 18.8% in 2019.
Digital Still Calls The Tune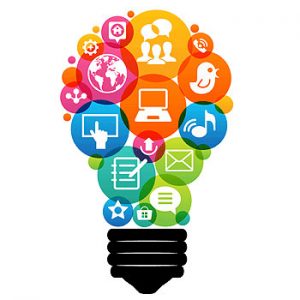 Worldwide Digital media spend is forecast to increase by 12.6% in 2018, more than three times the rate of all media (3.9%), to reach US$230.6 billion—a US$25.7 billion incremental increase year-on-year. Online Video (+24.6%) and Social Media (+21.6%) are particularly strong. Paid Search continues to account for the largest share of digital (39%).
As previously predicted, Digital will overtake TV for the first time this year to account for 38.4% share of total ad spend vs. 35.5%. In the US, Digital spend is forecast to overtake TV in 2019.
Programmatic ad spend is expected to grow by 23.2% in 2018 and 19.1% in 2019 as the ability to consolidate programmatic buying strategies across formats and devices continues to be an opportunity for advertisers to reach the most valuable audiences at scale.
Source: Dentsu Aegis Network