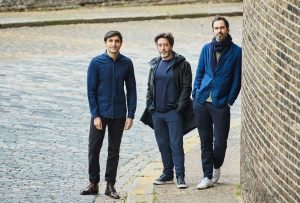 Innovation agency AKQA is to form a pioneering alliance with architecture and interior design practice Universal Design Studio and industrial design consultancy Map Project Office, in a move that redefines the concept of a 21st century design group.
To create this collaborative new venture, AKQA, a WPP Company, has acquired a majority stake in Universal Design Studio and Map Project Office; both will remain distinct companies, with co-founders Edward Barber and Jay Osgerby continuing to provide strategic oversight as board directors.
Strategically positioning the trio of interdisciplinary award-winning design practices in an innovative partnership, the studios will now offer integrated, as well as existing services enhanced by their combined expertise and approach to designing for the digital age.
Working together across teams, locations and clients, the group will design intuitive, aesthetic and interactive solutions that challenge the artificial barriers that presently exist between interfaces, the spaces we inhabit and the objects we use in an increasingly connected world. In recognition that built and digital environments are no longer conceived in isolation of one another, and with continued advancements in materials science, data science and cognitive science, the creative practices are uniquely positioned to design connected touchpoints across physical and digital realms through the entire customer ecosystem.
Edward Barber and Jay Osgerby, co-founders of Universal Design Studio and Map Project Office, said: "We are delighted to build a community that shares our ethos of collaboration and innovation. So much of our lives has been transformed by digital in recent times and this new partnership with AKQA will give us the opportunity to redefine the interface between architecture, product and experience design. For us this represents the future."
Ajaz Ahmed, CEO of AKQA, said: "Having admired Edward and Jay's work for over 20 years, this venture is the realisation of a decades-long dream. It is the culmination of an exciting vision that embodies the spirit of invention we have always stood for; to push the limits and solve problems in unexpected ways. We proudly welcome the Universal Design Studio and Map Project Office teams and their philosophy, and look forward to discovering new possibilities and perspectives together, now, and long into the future."
As award-winning innovators in their respective fields, the three design practices will create a new environment under the same roof at AKQA's London studio in St John's Lane, Smithfield, promoting collaboration across each discipline, while also establishing bases in key AKQA offices internationally. To help clients envision the opportunities and challenges of the future, a dedicated Research Lab will also be established in the Smithfield building where teams from all three disciplines will collaborate on self-generated projects.
Combined with Universal Design Studio and Map Project Office's employees, AKQA employs around 2,100 professionals in 23 studios across the USA, Latin America, Europe and Asia-Pacific.
Source: AKQA