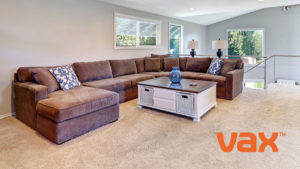 Household brand Vax has appointed full-service, integrated advertising and marketing agency, bigdog, as its lead creative agency, following a competitive two-way pitch.
It is the first agency appointment made by Vax Marketing Director Jon Collings, since he joined the brand in September 2017. The contract will see the team at bigdog, led by Associate Director Harman Randhawa, support Vax as it seeks to grow the category and gain market share. The agency will work closely with Collings going forward, as he takes steps to develop Vax following his five-year stint at Gtech, where he helped grow the business to a £100m turnover.
The work will focus on above-the-line creative strategy and campaign delivery, with brand and product-led campaigns including DTRV and press. The first activity, set to launch in Spring 2018, will centre around an exciting new product launch for the brand.
Jon Collings, Marketing Director at Vax, comments: "bigdog totally understood our products and our business from the off, and nailed the pitch with sound strategy and stand out creative. It was important for me to find a creative agency with a detailed grasp of both our market and our vision, and bigdog gets it. We look forward to working with them."
Harman Randhawa, Associate Director at bigdog, adds: "Working with such an iconic and innovative brand is a fantastic opportunity for bigdog. The floor care market is growing, and we look forward to helping Vax to capitalise on that wider trend, increasing market share and promoting its sector-leading positioning."
Source: bigdog