In mid 2017 Dentsu Webchutney India was entrusted with the digital, social, creative and media buying duties for Piaggio's Vespa and Aprilia brands in India. The agency has recently launched digital campaigns for both of them.
Piaggio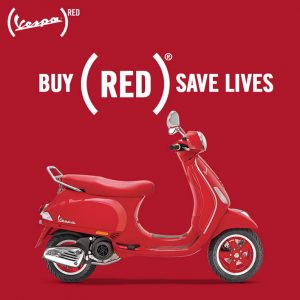 India's trendsetting Vespa launched the (RED) edition in India as an extension of its existing global collaboration with RED, an organization that partners with global brands to create awareness and support the fight against HIV/AIDS. The sale of each Vespa (RED), which was presented by Actor and UN Women Goodwill Ambassador, Farhan Akhtar, at the launch event, contributes to financing The Global Fund to fight AIDS in India.
The digital campaign for Vespa (RED) kicked off with a series of teasers, creating excitement about the collaboration and introducing RED, while educating audiences on the significance of this charity and the partnership.
On the day of the launch, Farhan Akhtar's Facebook Live sessions as well as coverage of the event were a great success on both Twitter and Instagram. This was amplified via influencer activation.
The campaign received average audience engagement of over 80% across platforms. The brand received 11K impressions on the day. Overall, the event earned Vespa (RED) a sizeable amount of Digital PR.
Aprilia,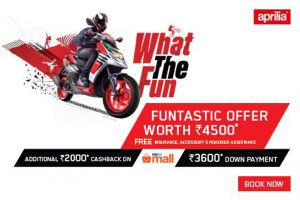 which is renowned the world over for its unmatched racing heritage, entered the Indian market with its first Made-in-India, Made-For-India, crossover product – Aprilia SR 150. There was a combination of the feel of a sports bike with the ease of a scooter that added the FUN element to communication.
As a new entrant, the primary objective of the campaign was to create brand awareness. The media strategy was based on the same. First up – to increase visibility and awareness. To achieve this, impact properties were focussed on.
The campaign received more than 100 million impressions from Aprilia's launch film. Organically, 14K followers were added to their Facebook page. This coupled with a planned Influencer activity across relevant categories saw an increase in engagement by 39%.
"Piaggio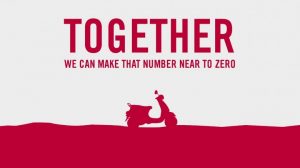 has successfully created the premium positioning in the 2 wheeler segment with its iconic Italian brand Vespa and the racing brand Aprilia. We have built a strong connect with the youth through the digital medium. Webchutney is a highly creative agency and we believe that they are the best fit to manage our brands. The initial campaigns they handled for Aprilia and Vespa on the digital, creative and media side are full of creative genesis," said Ashish Yakhmi, 2W Business head at Piaggio India.
Nishi Kant, EVP and Branch Head, Dentsu Webchutney – Mumbai, said, "The team couldn't keep calm since the day we received the brief. Our pitch was one of the finest that we have produced so far. We had great fun working on these two campaigns as the brands appeal to a young, sporty, fun-loving audience and have a tremendous heritage value as well. This is going to be a great ride and here's to many more such campaigns."
According to Gaurav Soi, Executive Vice President, Growth, Webchutney, "Aprilia has great racing heritage, while Vespa is an iconic brand. To get the opportunity to be part of the pitch process was exciting in itself, but to have the brands on our roster and to create communication that resonates with the audiences is the icing on the cake."
Source: Campaign Brief Asia