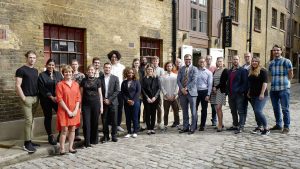 VIGA, the Next15 data collection agency, will open its doors to school pupils in an interactive Research Taster Day to immerse pupils in the power and potential of market research. Twenty children from Chiswick School aged 14-15 will be taking part in interactive sessions involving quick-fire activities such as surveys with realtime results and live challenges.
In the first session of its kind, VIGA, which launched in 2016 and has a global team, will aim to inspire and educate the next generation with talks, activities and Q&As, all designed to appeal to the age group. The first day will be held on Tuesday 3rd July.
"This is an age group that is actively encouraged to give opinions and is frequently exposed to questionnaires and the results of studies, but don't necessarily have the understanding of what lies behind them," explained Danielle Rodriguez, Director, Sales Strategy and Operations at VIGA.
"We were keen to bring the industry to life, in an interactive way, giving snapshots of the different roles and hands-on experience of what each involves. Historically, market research is an industry people start to discover at a later stage – but there's no reason we can't share our passion and make it relevant to this age group, too."
Source: VIGA