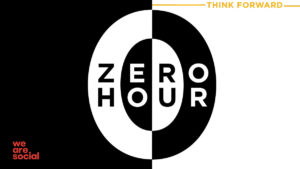 Global social media agency We Are Social has launched Think Forward, a report that examines the trends that have emerged during a year of mistrust, misinformation and multiple mindsets, and focuses on the social motivations behind these movements.
The report has been compiled in conjunction with experts across politics, technology, media and culture. It is based on a framework of six key social motivations, developed by We Are Social, which are used as a lens to analyse and categorise the trends:
Certainty – The need for safety and control
Connection – The need to interact with others
Belonging – The need to feel part of the community
Status – The need to have validation in society
Progression – The need to grow, learn and develop
Conscience – The need to help others
It examines themes relating to emotional analytics, influencer fatigue, social mediators and more.
Mobbie Nazir, Chief Strategy Officer at We Are Social and co-author of Think Forward, commented: "It's been a year of contradiction. We've seen increasing diversity and inclusion as well as greater control and nationalism. Technology continues to evolve at an incredible pace while trust declines. On one hand, data can give us more insights to build this trust, but the process of gaining that data can also destroy it.
"We're at a critical moment in society, where we all need to start working together. In these conflicted times, it's difficult for brands to navigate this path, but there's an opportunity to nurture an environment in which trust can grow.
"Lots of trend reports talk about tech and innovation, but they miss the bigger opportunity for brands to tap into people's social needs and motivations. These needs are amplified through technology, but they have been around way before the likes of Facebook or Snapchat. They are what makes us human, and they are powerful drivers of human behaviour."
The full report can be downloaded from here.
Source: We Are Social