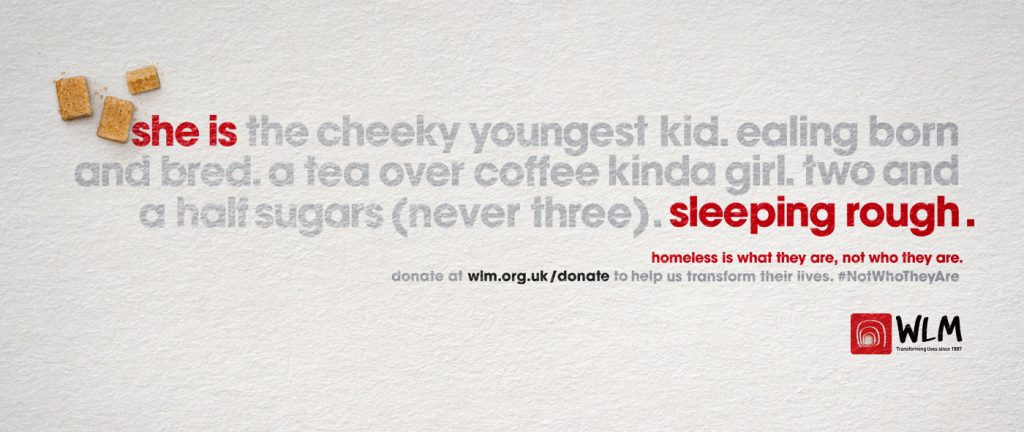 West London Mission (WLM) – a charity working to empower people affected by homelessness, poverty and trauma to live more fulfilling lives – is working to grow support by making homelessness more relatable in a new campaign by AMV BBDO.
In a series of (three) outdoor ads and social executions, the distinctive quirks, likes and dislikes of different individuals are brought to life.
'She is the cheeky youngest kid. Ealing born and bred. A tea over coffee kinda girl. Two and a half sugars (never three),..' one reads, above the strapline shared by each: '…Sleeping rough. Homeless is what they are, not who they are'.
In London, where rough sleeping rose 18% year on year between 2017 and 2018[i], homelessness is rarely out of the news – and increasingly visible on the streets.
Yet for many passers-by – either because they are too busy, or simply because homelessness seems too great a problem – it's all too easy to hurry past without engaging. The temptation is to dismiss homelessness as someone else's problem.
WLM offers a range of services designed not only help get homeless people off the streets and into permanent accommodation and employment but through counselling, workshops and advice help them lead more fulfilling lives.

Created by AMV BBDO, which has had an on-going partnership with WLM since 2002, the new campaign – the charity's first – is intended to encourage more people to take positive action by making homelessness more relatable.
AMV have been working with WLM since 2002 when The Big House (now WLM Burgess Park House) was set up – an ex-military supported housing service. AMV have helped in various capacities since then – including fundraising, and volunteering – supporting the ongoing support WLM offer homeless people, to get them into permanent employment and accommodation.

Panos Balalas, WLM Communications and Marketing Manager, said: "Homelessness is a problem we can't afford to ignore, so we wanted to make the problem feel more real for people to make them think twice about walking past homeless individuals without taking action.
"All too often, 'the homeless' are bucketed into the same group – the assumption being that all suffer from the same problems. But as we all know, everyone is individual with their own distinct skillsets, passions, dislikes and personalities. So why should homeless people be viewed otherwise?
"As part of our ongoing partnership with AMV BBDO, our first ever advertising campaign is to bring to life the human side of living on the streets. Because homelessness is what they are not who they are"
WLM's 'Homeless is what they are, not who they are' campaign, now on the charity's social channels, goes live in OOH across Marylebone station in the first two weeks of December. WLM is also organising a carols service in the station on Tuesday December 10th, 5-7pm, to help encourage donations via selected donation boxes.

PRODUCTION CREDITS
Creative Directors: Jamie Starbuck, Prabhu Wignarajah, Olga Pope, Gina Kelly
Creative Team: Lily Kn, Oneikeh Campbell
Strategist: Michael Alhadeff
Project Manager: Sarah Hoile
Account Team: Harry Buggé, Amy Tippen
WLM Client: Panos Balalas, Roger Clark
Print Production: EG+
---
Source: AMV BBDO