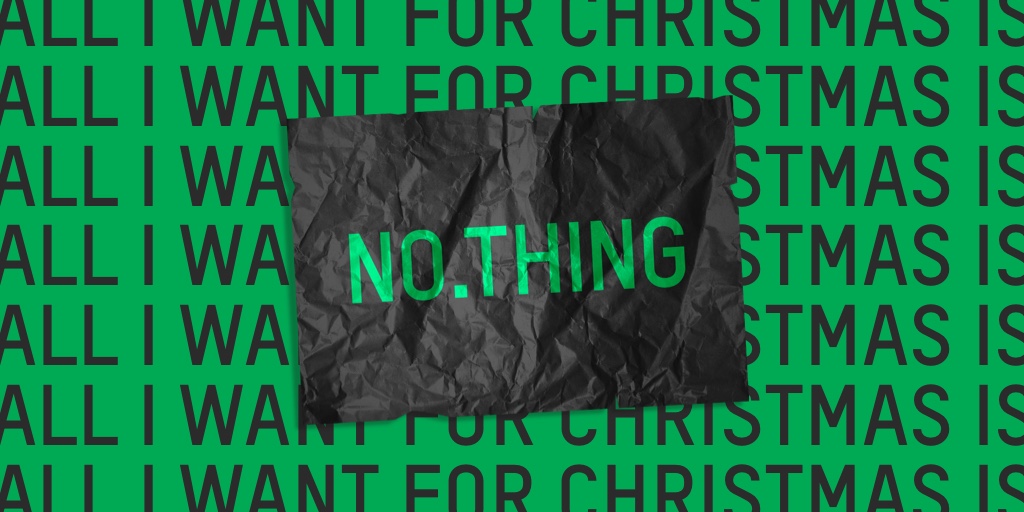 Wunderman Thompson UK is shaking up the way the industry does Christmas this year, with a radical, fun campaign that turns a seasonal workplace tradition completely on its head. The agency's total departure from festive conventions sees it reimagining how we should all do that office staple, Secret Santa so that it becomes more sustainable, thoughtful and joyous.
More often than not, Secret Santa involves a stressful last-minute scramble to buy presents for people we might not even know very well. There can be little thought involved and many of these gifts end up in the bin or may not make it past the day of the Christmas party. A survey* commissioned by Wunderman Thompson found that over half (55%) of UK workers never use their Secret Santa gifts – equating to over £165m** in unnecessary spending each year.
In its newly launched NO.THING campaign this Christmas, Wunderman Thompson is attempting to solve the inherently wasteful nature of Secret Santa by encouraging its employees, clients and the industry to do NO.THING and engage in a different kind of giving that is much more in tune with the times we live in. NO.THING wants us to exchange fun, meaningful good deeds rather than buying things; in other words to exchange time for tat and to put sustainability at the heart of how we celebrate Christmas. That might be doing something as simple but thoughtful as making a colleague's tea or coffee for the day or watering their plants for a month.
As a way of staying true to the principles of the initiative and avoiding needless waste, Wunderman Thompson will not be creating any sort of accompanying Christmas card. Instead NO.THING will be supported by colourful, impactful online assets, themed 'UNGIFTED' that will provide plenty of inspiration for everyone to get involved and play their part in cutting out waste this festive season.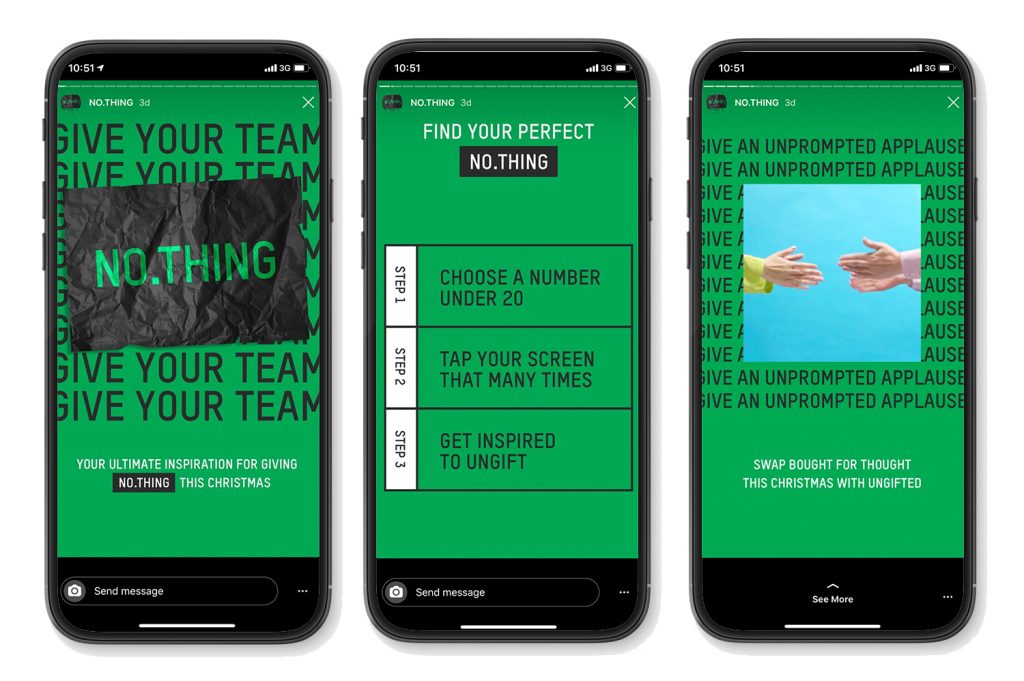 'Ungifted' has a striking 'brutalist', guerrilla, fly-posting aesthetic with NO.THING emblazoned in a black square to cut through the seasonal clutter. The colour scheme echoes traditional seasonal colours with the addition of neon accents to complement the Wunderman Thompson brand palette.
Wunderman Thompson will be flooding its social channels with ways for people to get involved in UNGIFTED. Those who sign up via https://ungiftedsecretsanta.com/ will receive a confirmation email and a campaign post to share and encourage others to participate.
Wunderman Thompson will also be sending out personalised NO.THING emails to clients prompting them to take part and targeting them with social activity. The agency will also display striking digital campaign assets throughout its Greater London House HQ.
Pip Hulbert, CEO at Wunderman Thompson, said: "As an agency we pride ourselves on thinking differently and developing unexpected solutions for our clients. We have brought a similar mindset and approach to our own NO.THING initiative this Christmas supported by a range of inspirational materials that will prompt people to get involved.
"Every year, over half of Brits receive unwanted Secret Santa presents that usually end up on the scrapheap, creating needless waste that harms our environment. NO.THING is about changing mindsets through a very simple concept and mechanic that helps reframe Secret Santa as being about small acts of kindness that don't cost the earth."
Wunderman Thompson's NO.THING has been developed in partnership with Pentagram-owned 'Do The Green Thing' – the green arm of the design giant.  Wunderman Thompson collaborated with Pentagram throughout the process.
Source: Wunderman Thompson