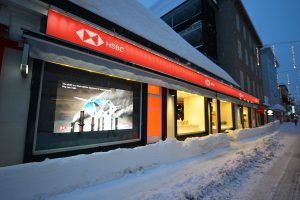 Brand experience strategy and design consultancy 2LK have created an experiential pop-up lounge for HSBC at the 48th Annual Meeting of the World Economic Forum (WEF) in Davos, Switzerland.
HSBC is a strategic partner at WEF, and the 2018 event was a key opportunity for HSBC to strengthen its credentials as a world leader in sustainable finance by telling its story in an innovative and engaging way – through an experience that demanded the attention of visitors to Davos during WEF and that had its own sustainable credentials. In total, more than 2,500 people attended WEF, but the key target audience for this branded experience are CEOs and leaders of the large multinationals who attend Davos.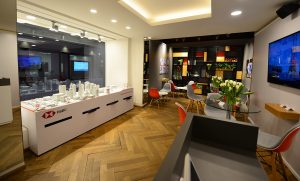 2LK repurposed a boutique shoe shop located at a key location on Davos' main street to become the 'HSBC Lounge'. Ideally situated close to the main conference hall and hotels, it is visible to everyone going to and from the congress. Featuring immersive experiences and displays, the location stimulates conversations and personal connections with WEF delegates to reinforce HSBC's sustainable finance credentials.
From outside, kerb-side engagement is provided by a façade featuring the first public activation of the refreshed HSBC brand, with intriguing views through large windows adorned with HSBC's iconic Hexagon.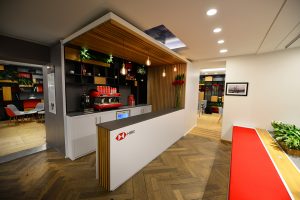 Visitors are warmly welcomed by a maitre d' upon entry. The Lounge then opens onto designated areas: The Coffee Bar, the Interactive Zone, three Lounge Areas, and a private meeting room. This highly versatile space takes on various guises over the four days such as breakfast meetings, a sustainable finance meeting showcase space, and a high profile dinner venue.
2LK's designs include some particularly innovative ideas such as: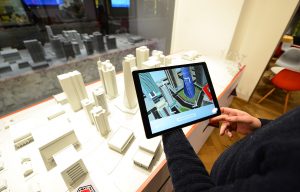 'Smart City' Augmented Reality 3D Model: Produced on a 3D printer, the Smart City AR model is a stunning, high-tech and innovative self-exploration around HSBC's sustainable finance initiatives, focusing on Urban Infrastructure and the Smart City story. With key subjects including energy, mobility, technology, transport and infrastructure, it is an innovative and engaging way for visitors to learn about HSBC's sustainable investment credentials. Visitors manoeuvre and direct a tablet towards key points on the model to reveal an in-depth digital layer of powerful case studies that highlight HSBC's industry-leading global role in sustainable finance. It is simple, intuitive and engaging.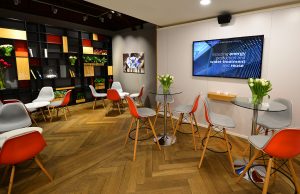 Communicating sustainable finance: A stunning large high-resolution LED screen facing onto the street provides the inaugural launch of HSBC's 'Together we Thrive' brand promise. Further digital screens inside the venue form the focus of the Lounge Areas, and provide a cinematic digital backdrop to the Interactive Zone – featuring beautiful, panoramic imagery and simple, bold messaging to reinforce the sustainable finance story. Plus emotive framed photographic landscapes on the walls combine with powerful messaging to highlight key sustainable finance initiatives around the world.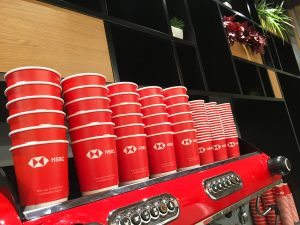 The Lounge's sustainable credentials: This experience is not just about communicating HSBC's sustainable finance credentials – it is also about taking a sustainable approach to the actual build for the Lounge. It is designed and built with flexible, enduring components suitable for post-event storage, re-configuration and re-use. The framed photographic landscapes were shot by HSBC staff whilst on personal travels, representing a substantial saving on the carbon footprint that would have been used had a photographer been commissioned to shoot around the world instead. The Smart City Model is digitally produced using a modular method that allows it to be updated, scaled up and down, and fully adapted for future event use. A tree planting initiative counterbalances the environmental impact of recyclable paper coffee cup use. Fixtures and finishes incorporate woods, laminates and fabrics sourced from companies who put environmental and social considerations at the forefront of their products, processes and culture.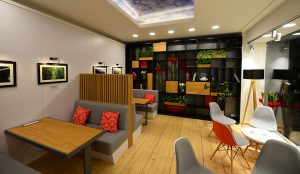 Andrea de Vincentiis, Global Head of Integrated Marketing Communication at HSBC, said: "The aim was to create a unique branded experience that draws a clear link between sustainability and HSBC, whilst providing visitors with a place to relax and connect away from the main Davos conference centre. The HSBC Lounge imaginatively showcases both digital and non-digital design that underscores HSBC's leadership credentials in sustainable finance."
Source: 2LK