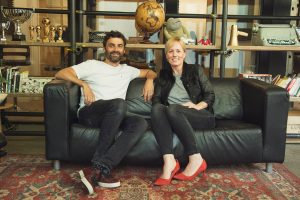 Global digital creative agency AnalogFolk has appointed experienced service designer Michelle Watson as Executive Director of Customer Experience. In her new position, Watson will be responsible for expanding the company's efforts in helping brands to improve the way they serve their customers.
Building on growing client needs across Nando's, Scotch and Soda, Blink and Nike, the appointment signals AnalogFolk's intent to augment its customer experience, service design, and product innovation capabilities in order to create greater value for clients, including helping brands to deliver more revenue for their businesses.
Bill Brock, Founder & CEO, AnalogFolk "In our experience economy it's now critical for brands to find new and innovative ways to serve their customers effectively and create business value. Michelle brings with her more than a decade of experience in this area and I'm delighted she's come on board."
Before joining AnalogFolk, Michelle held senior design, digital and experience positions at Razorfish, Digitas and dbg. Her previous roles were both as founders of Winston Wolf Experience Design and My favourite Hello. Watson brings with her more than 11 years of experience in senior management, board level or founder roles.
"I'm thrilled to be joining AnalogFolk. Their mission of 'using digital to make the analog world better' is one that I find very appealing and the roster of clients they have is impressive," says Michelle Watson. "I'm looking forward to partnering with our clients to innovate across their service models and can't wait to help AnalogFolk expand their capabilities in this area."
In the last 12 months, AnalogFolk has delivered a new flagship store for Scotch & Soda, developed a major new digital revenue stream and growth area for Nando's, as well as implemented innovation accelerators to transform Nando's in-restaurant experience.
Source: AnalogFolk