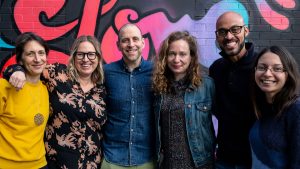 ustwo London, the digital product and services studio, has hired Anna Soisalo as Strategy Director to lead the agency's growing strategic practice to help clients make, change and learn together. 
Soisalo joins this month from Smart Design where she is Executive Director (Strategy) and with her arrival, the ustwo London Leadership team is now complete.
As strategy lead at Smart Design, a design and innovation company, Soisalo spearheaded multi-disciplinary strategy and design teams to identify longer-term innovation opportunities, create engaging customer experiences and define new business models for global clients.
She bridges her management consulting background with innovation, design and marketing agency experience. Previously, from 2013 to 2016, she was Director Head of Digital Business Design UK at DigitasLBi, leading the agency's digital transformation work. Prior to that, she was a Partner at a digital innovation start-up in Singapore. She started her career as a management consultant at Accenture Interactive Design Group.
Soisalo's work has spanned a range of industries, including healthcare, financial services, pharmaceuticals, FMCG, transportation and communications. In her new role at ustwo, she will work across all key clients including Three, Nissan, Ford, Adidas and Fresenius. Soisalo will report to Nicki Sprinz, Managing Director of ustwo London.
Soisalo said: "I am thrilled to be joining one of the few leading independent digital product and service studios – ustwo. The work they are doing across a broad range of clients and services is second to none. I look forward to building on that excellence and bringing in a business strategy lens to help our clients excel."
Sprinz said: "We are delighted Anna is joining our studio at a time of real growth and as our work is diversifying more in digital transformation. Together, we will focus on helping our clients create exemplary digital strategies and measurable business growth."
Source: ustwo London