Following the recent launch of Posterscope's ECOS NOW programmatic platform, Asda has jumped on board and deployed programmatic out of home activity to drive awareness of where it supplies the cheapest fuel prices across the UK.
The move from Asda complements the new functionality of programmatic DOOH activation which is picking up pace across the UK OOH industry and enabling brands to tap into the medium with new agility and flexibility. For Asda this communication is more important than ever given the UK's staycation boom under the Covid 19 environment, which has seen road traffic surge as the population seeks to trawl across the country on holiday.
Using Posterscope's ECOS NOW platform, and working in collaboration with media agency Spark Foundry, Asda is able to purchase key sites in proximity to its fuel stations within a matter of minutes using fuel card data, which validates where the brand has the cheapest price in the local area vs. key competitors Tesco, Sainsbury's and Morrisons.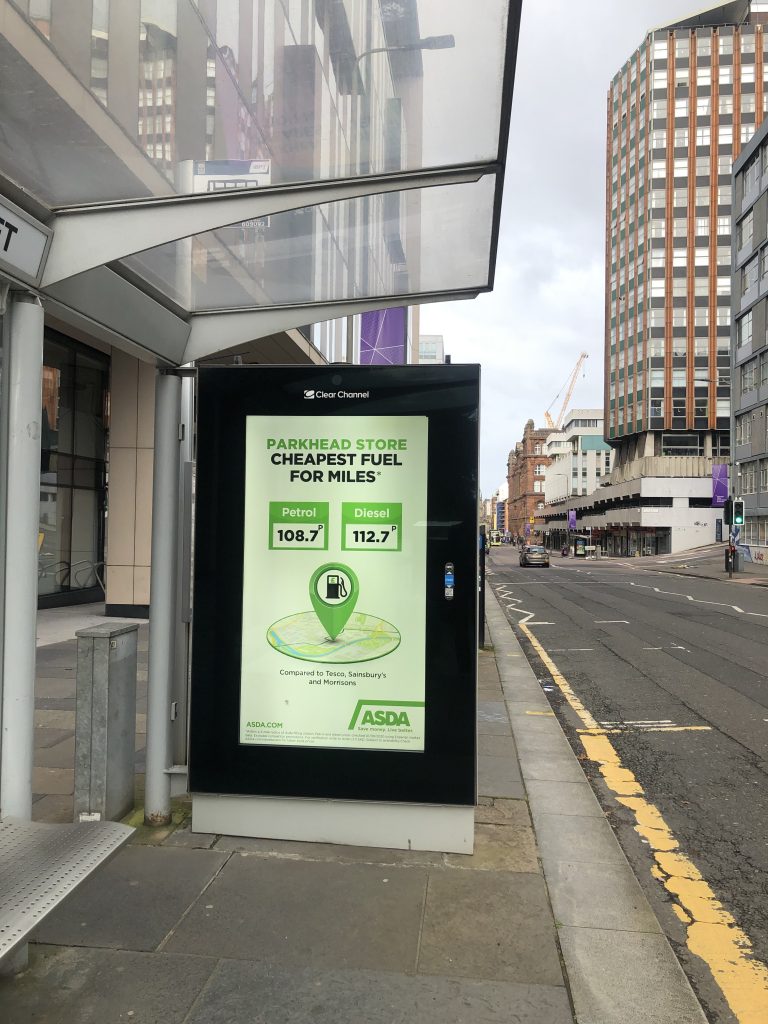 Dan Bayford, Planning & Buying Director at Posterscope, says: "This campaign continues to outline how programmatic activation is not only breathing new life into the out of home medium but also aiding its recovery following the recent slump caused by Covid.  It also supports our belief that given the correct context, programmatic can be additive and effective in driving not only a new way of thinking and activation for clients but also drive different types of campaigns and budgets into the sector. Our ECOS NOW platform is enabling our clients to push different ideas but continues to ensure everything is results driven, and not just innovation, for innovation sake."
Chalya Deverill, Business Director at Spark Foundry, adds: "We are thrilled to see this campaign come to life having worked with Asda and Posterscope to ensure we develop and deliver a truly relevant campaign for its customers.  The right application of data and targeting precision represents a new dawn for DOOH and has the ability to affect behavioural change. In this case, the campaign effectively utilises fuel card data to provide users with relevant messaging at the very time that a shift in behaviour is required."
Source: Posterscope