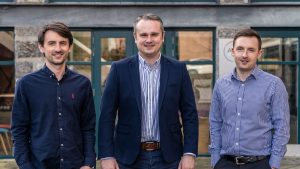 Video and animation content creation company AVC Immediais delighted to announce that Richard Baron and Angus Turner have joined the company as Creative Director and Creative Business Development Manager respectively growing and strengthening the company's creative media division. 
AVC Immedia is a specialist in creating video, animation and digital content. Its client portfolio spans global and local brands such as FIFA, Shell, Weir Oil and Gas, VisitAberdeenshire and NHS.
A hugely talented and skilled camera operator editor, as Creative Director Richard Baron will be responsible for enhancing the creative output of the existing video production team. Richard brings with him a valuable skillset which will complement the team's existing capabilities. He is vastly experienced in the offshore oil industry, a key sector for AVC Immedia, and has completed projects across the globe for some of the biggest companies in the world.
Angus Turner re-joins Immedia in the new role of Creative Business Development Manager having previously worked with the team as Business Development Executive. He brings his extensive experience of delivering animation and video projects to clients in the energy and public sectors. AVC is currently recruiting a business development executive, to assist him in building out the team's capabilities to meet further client demand across a growing range of industries.
Keith Robertson, General Manager at AVC Immedia comments: "We are delighted to have Richard and Angus joining our video and animation team. We had a strong year in 2018 and these appointments further establish AVC as the go to creative media agency in the North of Scotland. We are in an excellent position to grow and expand our creative offering for clients and continue to produce world class video and animation. 2019 is already proving to be an exciting year and I am very pleased to welcome both Angus and Richard back into the team."
Source: AVC Immedia