To launch the new 2014 AXE variant, AXE Peace, BBH London has created a ground-breaking campaign that gives girls and guys a way to help shape the world they will inherit. AXE has always been about bringing people together, but this time the brand hopes to use this message for good to promote positive change.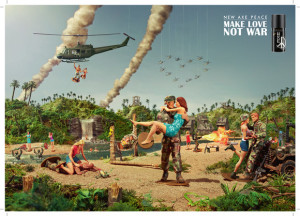 Based on the insight that guys are less aggressive when they're in love, the campaign considers whether the world would be a more peaceful place if more people were in love. The result is an epic campaign which aims to bring young people across the world together to make love, not war.
The film, 'Call to Arms', was shot by award-winning director Rupert Sanders and will launch in the US during the Super Bowl on 2nd February. The film is accompanied by print, digital, mobile and out of home campaigns, as well as a series of local initiatives around the world that aim to help young people take action for peace.
As part of the campaign, AXE has partnered with Peace One Day, an international non-profit organisation that drives awareness for and action on Peace Day (Sept. 21), an annual day of non-violence and ceasefire unanimously adopted by all United Nations member states. A film about the partnership with Peace One Day is available on YouTube.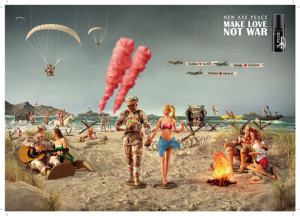 David Kolbusz, Deputy Executive Creative Director at BBH said: "After the launch of AXE Apollo in over 50 markets we looked back at what we'd done and realised that we could leverage our influence to do some good in the world. By getting all these different countries to promote AXE Peace, our goal was to get our existing fans (who number in the millions) to start thinking of peace as cool. By shifting their perceptions, hopefully it will lead to a behavioural shift too. More love, less conflict. Peace One Day are a brilliant partner for this project because they too believe raising awareness is the most powerful weapon."
Tomas Marcenaro, Global Vice President for AXE, said: "Our inspiration for creating the 'Make Love Not War' campaign for AXE Peace was knowing that our ability to bring guys and girls together could be used powerfully to have an impact on a huge scale."
Jeremy Gilley, founder of Peace One Day, commented: "Our partnership with AXE will inspire an astounding amount of young people, and awareness of peace is everything.  Awareness inspires action, and action creates change. We're honored that a brand like AXE, which reaches millions of people each year, is supporting us to inspire and empower a new generation of peacemakers."