Creative agency BBD Perfect Storm has developed a new global brand platform for Etihad Airways, the national airline of the UAE, which is designed to empower guests to make their own choices and to travel on their terms.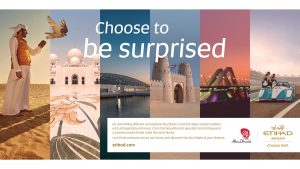 The inspiration behind the campaign was taken from the late Sheikh Zayed bin Sultan Al Nahyan, the founder of the UAE, and the choices he made to develop his nation and his people.
Designed to reflect the airline's new customer proposition, it is a celebration of the good choices made in life and reflects Etihad Airways' evolution into an 'airline of choices'.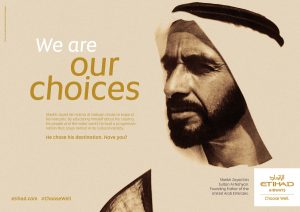 The refresh, which follows BBD Perfect Storm's appointment by Etihad in late 2017 following a pitch process, sees the inclusion of the 'Choose Well' tag line as part of the airline's visual identity, deployed across marketing collateral, sponsorships and events with the aim of creating greater visual impact.
Creative executions, including 60-second and 30-second films, showcase Etihad's role in acknowledging that consumers are "on a bigger journey, and there are bigger choices".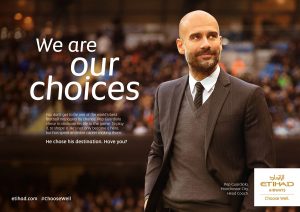 Ending on the 'Choose Well' line, the creative features a range of individuals including the airline's own staff. Shaima Rashed, one of the UAE's first Airbus A380 female pilots, who having always dreamed of wearing the golden stripes, demonstrates that through courage, conviction and choosing her own path, she fulfilled her dream and now flies the airline's flagship aircraft.
Jason Foo, CEO of BBD Perfect Storm, said: "Research showed that Etihad offering greater choices was a game changer. But this brand platform is about more than just travel. In life we are all defined by the choices we make. We were incredibly inspired by the choices Sheikh Zayed made that not only defined his life, but the development of the UAE. This campaign is about inspiring, celebrating and offering great choices to all. It's a rallying call. Those that choose well, live well."
Celebrating '15 Years Young', Etihad Airways has come a long way in a very short space of time and offers a range of products and services across cabins. Recently, new seating options in Economy have been introduced to enhance the product offering and allow for greater personalisation. Other introductions this year include a Neighbour-Free seating option in Economy and an extended range of 'buy-on-board' products.
Robin Kamark, Etihad Airways Chief Commercial Officer, said: "We are a proud advocate of choice and have introduced a range of products that allow our guests to personalise every aspect of their experience. We believe that the power of choice lies with them. Whether that's First, Business or Economy, the power is with the guest to decide what products are right for them. We are an airline of choices and our latest campaign perfectly encapsulates the decisions that our people and guests make every day."
The campaign went live in the United Arab Emirates, Saudi Arabia, the United Kingdom and Australia on 13 November across TV, print, digital and social channels.
Source: BBD Perfect Storm