BBD Perfect Storm has launched mistletoe into space as part of 'A Non-Nuclear Christmas' – a campaign it's created for Stop Hate UK, a charity working to challenge all forms of hate crime and discrimination, to spread love and peace across the world this Christmas.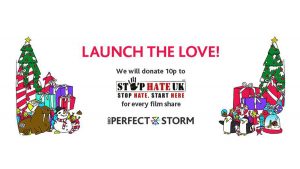 A weather balloon armed with a festive payload of decorative mistletoe – dubbed the 'Missile-Toe' – has been sent into the stratosphere from South Park in Oxford.
The whole launch was filmed from the ground, with in-flight footage captured by a GoPro camera attached to the weather balloon. Permission for launching the Missile-Toe above the world was formally granted by the by the UK's Civil Aviation Authority, to enable it to travel legally through commercial airspace.
The Missile-Toe was launched to 115,000 feet, almost 22 miles above the Earth and three-times higher than the cruising altitude of a commercial jet, making it the highest ceiling mistletoe has ever been hung from: Space. The only fall-out expected is peace, love and an explosion of festive kisses. The team at Perfect Storm say they hope it will "blow everyone away".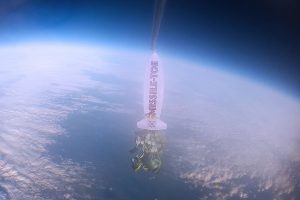 A campaign film, which has been created around the launch, also features a reminder of some of the hostilities that have characterised the year so far. This includes a 'festive re-working' reminder of the escalating tensions between 'Dotard' and 'Rocket Man' (aka US President Donald Trump and North Korea's Supreme Leader Kim Jong Un).
The launch film is being distributed via social media with viewers invited to "share the love" by sharing the film with friends along with the hashtag #launchthelove. For each share, BBD Perfect Storm has pledged to donate 10p to Stop Hate UK.
Perfect Storm's creative director Seb Hill said: "Considering the escalating tensions between the US and North Korea over the past year, it felt like this could be our last Christmas ever. We wanted to give peace a chance and launch love not war. Our orbiting 'Missile-toe' is the perfect counter-strike."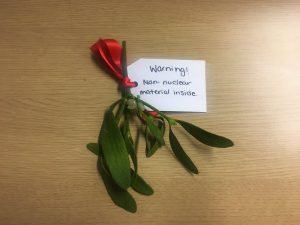 CEO Jason Foo added: "With such an ongoing 'perfect storm' of hostilities, we felt the Missile-toe was the only festive way to respond. We all hope Donald and Kim stand under the Missile-toe and finally kiss and make up."
The 'Non-Nuclear Christmas' campaign will run from December 4 until December 22 on Facebook, Twitter and BBD Perfect Storm's website. Visit facebook.com/bbdperfectstorm to turn hostilities into festivities this Christmas.
Stop Hate UK provides independent, confidential and accessible reporting and support for victims, witnesses and third parties.
Source: BBD Perfect Storm