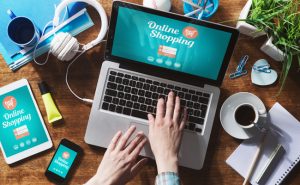 UK online retail sales were up +13.1% year-on-year (YoY) in February, according to the latest figures from the IMRG Capgemini e-Retail Sales Index. With the Beast from the East hitting the UK in the last week of February, the cold weather saw shoppers turn online in their droves, driving a +3.5% lift in sales compared to the previous week. This continues 2018's positive start, with overall year-on-year growth averaging 13.5% year-to-date.
Despite the strong sales however, the overall market conversion rate (the percentage of site visitors that complete a purchase) was 4.2%, down from 4.6% last year. The conversion rates for both multichannel and online retailers also came in lower than February 2017. However, the average basket value (ABV) rose by £11 in comparison to last February. Meanwhile, smartphone growth remained strong at +38.5% on last year, but is certainly slowing when compared to the +57% growth of last year. Tablets, on the other hand, continued their now 4-month long decline trend, decreasing -6.7% year-on-year, a record low for this device type.
Some sectors performed notably well this February. Health & Beauty grew by +33.85% year-on-year – its highest growth in the last 5 years. In addition, Clothing continues to show strong year-on-year growth, up +14.9%, with accessories and footwear the top performers within this at +22.3% and +20.4% respectively. Finally Gifts also grew by a strong +9% year-on-year, a significant improvement on last year's -3.3%.
Bhavesh Unadkat, principal consultant in retail customer engagement, Capgemini: "February's sales patterns clearly demonstrate the power of extreme weather on shopping habits; as people avoid the high street in favour of cosier shopping from their well-heated living rooms. As the snowy weather continued well into March we anticipate a continuation of this trend in next month's results. We'd also draw attention to the performance of the US retail market, which has just reported its third consecutive month of falling sales. As the US market is often seen as ahead of the UK's this could foreshadow a similar trend in the coming months. Fortunately for internet retailers, the US reported +1% online sales growth."
Justin Opie, managing director, IMRG: "Over the course of many years, the overall conversion rate for online retailers crept up very slowly but this has stalled recently and has now actually been in decline for three consecutive months. This suggests that shoppers are spending more time browsing, potentially across a greater range of sites, before making a final purchase decision and that may well be true, but a clear influencing factor is a shift in the devices people are using for shopping. In Q4, 32% of online retail purchases were completed on smartphones (the rest were through desktops and tablets) – these devices tend to have lower conversion rates due to a variety of reasons, particularly how much more susceptible users are to being distracted when using them."