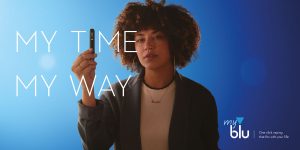 blu, the original e-vapour brand, has announced the appointment of MSQ Partners and Hyperactive to launch its myblu electronic vaping product in the UK following a competitive pitch. The agencies have been tasked by the blu team with the creation and delivery of the integrated launch, which is scheduled to go live this summer.
myblu is the newest vaping product in the blu portfolio and will be central to its ambition to build significant market share in a fast-developing sector.
Within MSQ Partners, the strategic and creative lead will be taken by STACK, with media planning and buying headed up by sister agency The Gate. The group has teamed up with brand experience agency, Hyperactive, in order to deliver the launch.
As well as a significant nationwide outdoor advertising presence, activation activity will be carried out in most major UK cities between June and September, involving pop-up stores, events, brand ambassadors and sampling teams.
Pete Blackman, Marketing Manager for blu said, "We needed an agency solution that could deliver an ambitious yet intricate integrated launch campaign for us. MSQ Partners showed us smart consumer insight coupled with creative and effective use of all of our media channels, and together with Hyperactive we have found the right mix of skills to launch myblu."
Ben Stephens, CEO of STACK commented, "This is a young but rapidly evolving sector and blu have significant ambitions for their position in it. As a result, we are adopting a mainstream marketing strategy for the launch of myblu in a sector that has largely relied on tactical sampling to-date."
Andrew Casher, CEO of Hyperactive added "We are excited to be involved in a category that is evolving at pace. With the blu team, we have developed a smart, dynamic and integrated approach that allows us to fine tune and optimise the myblu launch campaign to ensure effectiveness and efficiency."
Source: MSQ Partners