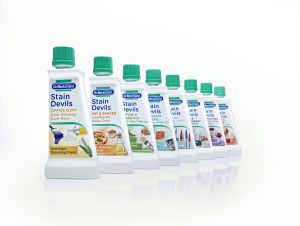 One of Europe's leading specialist stain remover Dr. Beckmann, has undergone a complete global refresh by brand acceleration agency, bluemarlin.
Uniting their brand worldwide with consistency, simplicity, and relevance, the new design will support Dr. Beckmann's ambition to realise its high global market potentials.
Dr. Beckmann is the renowned specialist in stain removal, laundry care and household cleaning, with some of the highest consumer satisfaction ratings in the industry. For people who demand the best, only the Doctor is good enough.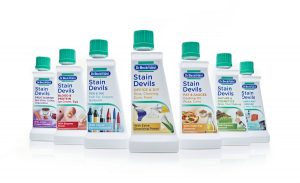 Its packaging labels, however, were showing symptoms of inconsistency and failing to deliver effective impact across its extensive range of targeted products, available in over 80 different countries. Cluttered and unrefined, the packaging was communicating all the wrong associations, whilst also making the range difficult to navigate.
Dr. Beckmann turned to bluemarlin to create a 'one brand' international packaging system that reflected the brand's core DNA of reliability, effectiveness, competence, and efficiency.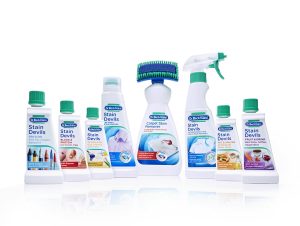 Bluemarlin's creative cure was a unifying design that is clean, contemporary and precise. With the introduction of a green ribbon and a stylish 3D effect, the new evolved Dr. Beckmann's logo boosts shelf impact and brand recognition.
The new 'green curve' helps organise on-pack communication, radically improving range navigation to ensure consumers find the right product for their specific needs. And a vibrant new colour palette and hyper-realistic illustration style drives consumer confidence in Dr. Beckmann's scientific expertise.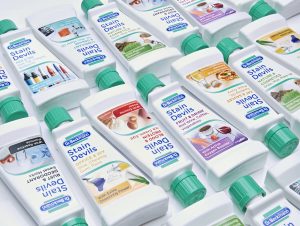 "Dr. Beckmann is a power brand in the cleaning category, known and trusted for its expert knowledge and reliability," comments David Hodgson, Creative Director at bluemarlin. "The new design provides the brand with a visual language that will strengthen its impact and recognition worldwide. Dr. Beckmann's now has a clean bill of health and a new lease on life."
Marco Buschmeier, Director Global Marketing at Dr. Beckmann comments, "Bluemarlin has created an effective brand identity that will support Dr. Beckmann as it continues to grow into new markets and new categories. It is fresh and modern, communicating our expertise in a way that is easy for consumers to understand and navigate. In regards of scope, this was a thoroughly challenging initiative, but bluemarlin's strategic support, obsessive attention to detail and creative intuition gave this project just what it needed to achieve success."
Source: bluemarlin