Creative agency BMB has launched a new campaign for KP Snacks' brand KP Nuts, which will run across TV, VOD, OOH and Social.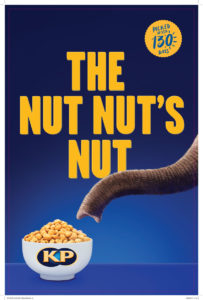 The 30" and 20" TV spots go live on 22nd June, with both TV and VOD running until early August. OOH will run from 3rd July until mid July, nationally, while campaign activity will run on Facebook, YouTube and Twitter from early July through to early September.
Having not been on TV for 24 years, and with sales largely driven by Christmas, KP Nuts is keen to assert its taste superiority over own label brands.
With the lines that KP Nuts are the 'nut nut's nut' and 'picked after 130 days', the elephant in the room becomes literal as well as metaphorical in this execution, when the biggest 'nut nut' of all is accidentally served the wrong ones.
Our hosts of the party have the embarrassment of their sub-standard nut provision being revealed by none other than an adorable baby elephant, a symbol of taste connoisseurship. He knows when he's being served KP Nuts and makes it obvious that non-KP Nuts are not to his taste.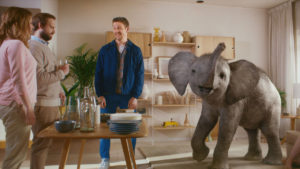 Order is quickly restored when our elephant finds a hidden bag of KP Nuts for everyone to crack open, share and enjoy.
The OOH executions also show a delicious bowl of KP Nuts moments from what we can assume is all out eating mayhem as our elephant's trunk creeps into shot.
Dan Winslet, marketing controller at KP Snacks said: "Britain has always been nuts about nuts, but sometimes saves the good stuff for Christmas. KP Nuts are grown in the sun for 130 days before picking, so are the best-tasting nut all year round and any elephant worth his salt knows that. We're delighted to bring KP Nuts back to the small screen with a big campaign and a new friend. Just don't give him the wrong nuts…"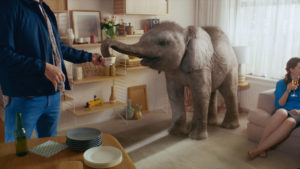 Jules Chalkley, Chief Creative Officer at BMB added: "KP Nuts is a big famous British brand, and deserves big famous advertising. We're delighted to bring them back to screens this summer, using the deft hand (or trunk) of an elephant with high standards about his choice of nuts. We've also created a line that could run and run – it only has four words, three of which are the word nut."
Credits:
Chief Creative Officer: Jules Chalkley
Creative Director: Jay Pond-Jones
Account Director: Jake Goodman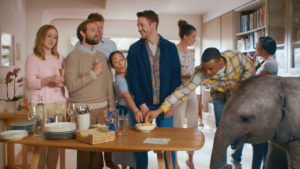 Agency Producer: Catharine Griffiths
Photographer: Laurence Haskell (OOH photographer)
Director/Production co.: Guy Manwaring at Sonny
Producer: Fraser Lawson
Editor: Mark Edinoff at Work editorial
Post Production: Glassworks
Sound Design: Wave
DoP: Alexander Melman
Media planning/buying: Vizeum
Source: BMB