[KGVID width="600″ height="338″]https://marcommnews.com/wp-content/uploads/2016/01/snsdyvideodownload.mp4[/KGVID]
For some, driving has lost its romance, stopped being fun, and has often become boring routine, spoilt by traffic congestion. BMW makes driving fun again by reminding people what true driving pleasure feels like: dynamic, responsive and exciting.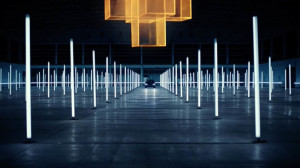 A real-life Snake Game (just like the classic arcade game, enjoyed by Millions of Nokia phone users in the late 90s and early 2000s, and today's target audience) is performed by the young and sporty BMW 1 Series – a representative of BMW's fleet of small premium cars – capable of sheer driving pleasure.
The spot was created by the BBDO Worldwide owned Interone China.
"A world's first ad format on WeChat – our target audience's preferred network – introduces the campaign and lets them return to their childhood days," says Birger Linke (Creative Director BMW & Rolls Royce at Interone).
In just over one week, the video was viewed over 180 Million times, had 95% positive comments, and the fan base of BMW's WeChat account increased by more than 100,000.