Boursorama Bank reveals its new brand platform, created with Buzzman, by launching a national multimedia campaign in France.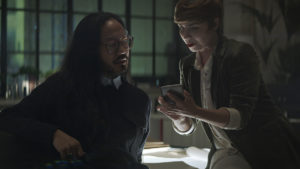 The campaign establishes the brand's new communication landscape and its new signature: "Boursorama Bank: the bank that everyone wants to recommend."
"Have you ever recommended an average restaurant? Or an average movie? Or an average bank? No. Because no one recommends something average… At Boursorama Bank, almost half the customers adhered after having been recommended by a relative. A true performance for the bank market, especially in France where people rarely recommend their bank in general," revealed Buzzman in their release.
To highlight this unique and trusting relationship with its clients, the campaign depicts, in a disruptive way, an imaginary world where men and women recommend average things to their close ones. Absurd situations that demonstrate the power of Boursorama Bank recommendations.
The media plan, set up by Vizeum, includes two 45' films that will be broadcast online and on TV as of 8th October. The films will also be declined in 1×30', 6×22', 4×12' and 4×16' formats.
To install the platform based on recommendations a national outdoor campaign (print and digital) will also be deployed, displaying men and women whispering to each other about how satisfied they are in being a Boursorama Bank client.
Source: Buzzman