This weekend saw the launch of the latest in the series of B&Q's transformation adverts, with a focus on bathrooms. The campaign sets out to remind customers that whatever their home improvement need or project challenge, B&Q always has a brilliant solution and a team of enthusiastic, problem-solving colleagues on hand to help.
Beloved for their DIY expertise and orange aprons, colleagues at B&Q stores across the nation have provided help and advice to customers looking to improve their homes and gardens for the past 50 years. The latest campaign sees them once again take centre stage, reflecting their position at the heart of the brand.
The new TV ad, created by WCRS, sees the colleagues come to the rescue of a family with a bathroom that clearly doesn't work for their busy home. Our protagonist is inspired by a bathroom on B&Q's website and wonders if she can make the stylish look work for her space. We then see the colleagues burst into action, and with a series of clever synchronised in-camera movements, transform the bathroom. From moving walls to create a relaxing space for a bath, to introducing two sinks to make life as easy as possible, we see the drab and cluttered bathroom transformed into a modern space that's designed perfectly for family life.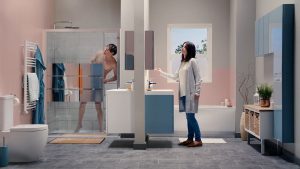 Shot again by Ben Scott and produced by RSA films, the TV spot follows on from the previous adverts for B&Q's Garden, Kitchen and Interior Décor ranges, shot using similar production techniques and continues to demonstrate that whatever your home transformation needs, B&Q always has a brilliant solution for you.
With an emphasis on stylish products and brilliant space-saving solutions, B&Q's first bathroom campaign in recent years shows just what innovative solutions can do to transform your bathroom life.
Nicky Fisher, Marketing Director at B&Q said, "The latest bathroom ranges from B&Q are the product of insight led design and innovation. Through identifying common bathroom needs of our customers, such as de-cluttering and maximising small spaces we were able to deliver affordable bathroom furniture that fits customers lifestyles and helps them create a home they feel good about. The 'traffic' bathroom featured in our latest TV ad caters for easy multi-purpose use and helps to improve the daily bathroom 'rush hour' for busy households."
Steve Hawthorne, Creative Director, WCRS, said: "B&Q's talented colleagues take centre stage again as they come to the rescue of a mum in need. They dip into their box of tricks to seamlessly transform her bathroom, right before her eyes. Once again Ben Scott from RSA has worked his magic to deliver some beautiful choreography combined with some eye catching visual trickery."
Source: WCRS