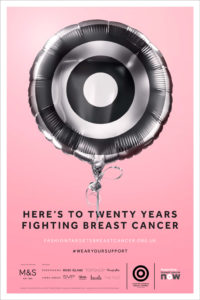 Kate Moss and Naomi Campbell have been photographed by Mario Testino to celebrate the 20th anniversary of Fashion Targets Breast Cancer in the UK.
Since the two supermodels helped to launch the iconic campaign in 1996, Fashion Targets Breast Cancer has raised over £14 million for Breast Cancer Now's vital research. The stunning 2016 images unveiled across UK billboards today see Testino re-invent Moss and Campbell's original bold and beautiful poses, 20 years on.
Using Testino's stunning images, this year's anniversary campaign posters have been created by award winning agency RKCR/Y&R. Out-of-Home Communications agency Posterscope and their media owner partners have worked with Fashion Targets Breast Cancer once again this year, donating the outdoor billboard advertising space across the UK for the 2016 posters to appear in.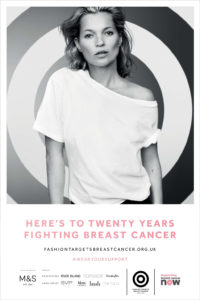 Launching last week, Fashion Targets Breast Cancer calls on British shoppers to show their support by buying something from the stylish 2016 collection. The exclusive range is hand-picked from some of the high-street's best loved retailers, including Marks & Spencer, Debenhams, River Island, Topshop, Laura Ashley, Simply Be, Hush, The Fold, SVP and Blow Ltd. Every item in the range carries a minimum 30% donation* towards Breast Cancer Now's pioneering research, throughout the six-week campaign.
Money raised by Fashion Targets Breast Cancer will be donated directly to Breast Cancer Now, the UK's largest breast cancer charity, to fund its ground-breaking research into the disease and help it to reach its target that, by 2050, no woman will die from breast cancer.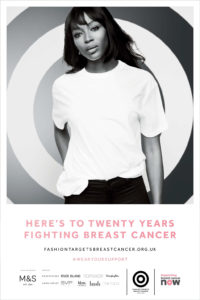 Baroness Delyth Morgan, Chief Executive of Breast Cancer Now, said: "Over the last 20 years Fashion Targets Breast Cancer has united the world of fashion as a force against breast cancer. The heartfelt backing of our retail partners, celebrity supporters and UK shoppers means that we are 20 years closer to finding a way to stop this dreadful disease. However, this month alone 1,000 women in the UK will die from breast cancer – and this isn't acceptable. As Fashion Targets Breast Cancer moves in to its third decade of decisive action, we're more determined than ever to reach the day when no one dies from this disease. That's why we're asking the UK public to continue to stand with us and 'Wear Your Support' with pride."
Vicky Jacobs, Managing Director at RKCR/Y&R, said: "Our ongoing support of the fight against breast cancer is a cause close to our hearts, and we are privileged to bring these striking images to the world."
Originally founded by Ralph Lauren in the US in 1994 after he lost a close friend to the disease, Fashion Targets Breast Cancer hit the UK in 1996. Over the last two decades the campaign has benefitted from the support of some of the biggest names in fashion, including Claudia Schiffer, Elle Macpherson, Kylie Minogue, Georgia May Jagger, Sienna Miller, Lily Donaldson, Twiggy, Yasmin le Bon and Abbey Clancy. Behind the camera, celebrated photographers such as Ellen von Unwerth, Patrick Demarchelier, Rankin and Simon Emmett have lent their creative vision to the campaign's striking look.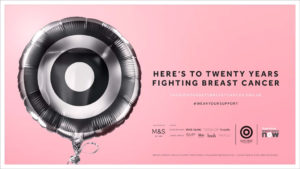 With two decades of strength, style and solidarity behind it, Fashion Targets Breast Cancer has raised over £14 million to fund pioneering breast cancer research. The campaign has made incredible advances possible, and today more women beat breast cancer than ever before. But the battle's not over until everyone lives.
United by fashion. United against breast cancer. For the last 20 years, and until the fight is over.