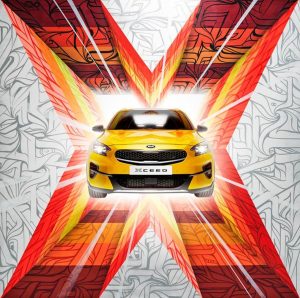 Bridge Studio has created a special eight-page 'X-traordinary Art' supplement featuring original commissioned artworks in The Sunday Times Magazine. The artworks were created for Kia as part of its launch promotion of the all-new Kia XCeed. 
Kia's tagline for the XCeed is 'it won't be secret for long', and to showcase this Bridge Studio has commissioned three artists from different disciplines to create a bespoke artwork based on the theme 'X marks the spot'.
The supplement features:
Alan Kitching – the world's foremost practitioner in letterpress design and printmaking. Alanis the Royal Designer for Industry (RDI), member of Alliance Graphique International (AGI), and Honorary Fellow of the RCA.
Astro – French street artist famous for blending an abstract style with geometric shapes with curves and calligraphy.
Mandy Smith – renowned set builder who over her 34 year career has collaborated with Damien Hirst, Polly Morgan and Tim Noble.
Creative Director Sachini Imbuldeniya said: "I wanted to find artists that were pioneers in their fields – forward-thinking artists that would be bold in their approach to the brief. The works by Alan, Astro and Mandy are a great example of how artists from wildly different disciplines and styles can come together and create pieces that complement each other, that talk to each other, and create something new." 
Alan Kitching took 33 words associated with adventure and discovery and compiled them together to create a giant typographic X. The words were created using Kitching's vast collection of antique woodblock type. These were then roll painted by hand to give the final artwork an urban feel that tied into the car's aesthetic.
"X is a very interesting, ancient graphic device,' says Kitching. "And 'X marks the spot' recalls a symbol found on the map of any self-respecting adventurer."
Alan collaborated with Mandy Smith, who suspended yellow balloons from the car's roof creating the illusion of it hovering over the X.
Graffiti artist Astro created a 4m X 4m wall mural that frames the Kia XCeed in a centralised X-shaped tunnel of light. His signature style exploits the subtlety of shadows, light, colour, perspective and depth, creating an optical illusion that deceives the viewer's eye by distorting the flatness of facades.
The mural Astro created took three days to complete and was a perfect complement to the car's trompe l'oeil qualities. "I like to mix straight lines and curves in my work," he says. "The letter X is a perfect shape for me. It's a basic geometric form that pulls everything towards the centre. It's a great shape to work with and the colours are designed to attract attention, to pull in the viewer."
The finished artwork features a quantum yellow Kia XCeed that appears to be bursting out of a huge three-dimensional X, announcing its arrival in a blaze of colour.
Set builder Mandy Smith, created an X-shaped tunnel of neon lights. "The XCeed's lights reminded me of my first visit to Piccadilly Circus and the shining brilliance of all the neon signs there. Neon is old glamour but it's classy," she says. "This is a very modern take on glamour." The lights recede into the distance to echo how far the vehicle has to travel and the pleasurable anticipation of the road ahead.
All three artworks were photographed by Luke Kirwan, and will be published as an eight-page supplement called 'X-traordinary Art' in The Sunday Times Magazine on October 13th.
Jane Fenn, Head of Brand Communications at Kia Motors, said: "To showcase the All-New Kia XCeed in such a visually engaging manner is hugely impressive and accentuates the individual talents of these pioneering artists. This collaboration enhances the true characteristics of the XCeed, bringing to life the distinctive and modern design of our bold new CUV. The imagination and ambition in this piece aligns with our exciting new addition to the Kia range."
Source: Bridge Studio