Burberry is supporting its new men's fragrance, Brit Rhythm, with a global music-focused ad campaign staring the These New Puritans front man George Barnett and incorporating a TV spot, as well as crowd-sourced images.
The campaign runs across TV and social, and will culminate with three gigs in late October.
It was made in-house under the creative direction of Christopher Bailey, Burberry's chief creative officer and stars model Suki Waterhouse and Barnett. The media company was Aegis Media. The fragrance will be accompanied by a capsule ready-to-wear and bag collection.
The campaign includes a 30-second spot that will be available on YouTube, before breaking on TV later this month, accompanied by online activity on Instagram and a dedicated Brit Rhythm section on the official Burberry website.
The Instagram activity forms a key part of the campaign. Bailey has selected leading Instagram photographers to collaborate on the campaign under the hashtag #ThisIsBrit, and selected images will be used to power outdoor ads.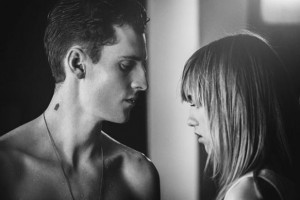 The culmination of the campaign will be three gigs in London, New York and Singapore in late October.
Fans can sign up via Burberry.com to receive scented temporary tattoos in the shape of a perfume bottle and enter a prize draw to win access-all-areas passes to one of the gigs, where the temporary tattoos will act as entry stamps.
The video, shot in black and white, shows a shirtless Barnett, wearing a perfume bottle-shaped necklace, dousing himself in Burberry Brit Rhythm as he prepares for his gig. The ad is crosscut with close-up shots of Waterhouse making her way to the gig.
The camera briefly pauses on a perfume-bottle tattoo on Barnett's neck, and the same tattoo on the wrists of the crowd, tying in with the temporary tattoo giveaway. At the end of the ad, the camera pans out across the concert crowd, which morphs into the perfume bottle.
Music acts as inspiration for both the fragrance and the campaign, following a long-standing commitment to music at the heart of the Burberry brand. Burberry has previously linked fashion and music through collaborations such as Burberry Acoustic, a partnership between Burberry and established and emerging musicians.
Bailey said: "Sexy and provocative, Brit Rhythm is inspired by the exhilaration and adrenaline of live music and the electric energy of the crowd."