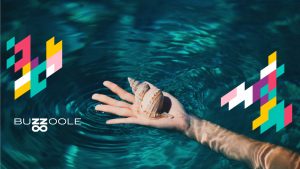 Buzzoole, a leading influencer marketing services provider, today unveils new visual identity and announces the creation of Buzzoole Labs.
The rebrand, designed by Italian firm Bellissimo, aims at redefining the Buzzoole brand and centres around the idea of 'technology meets creativity'. It also marks its transition from startup to international scale-up and its evolution from a platform to an end-to-end service partner, marrying technology with creativity.
The name Buzzoole was born from the union of buzz (buzz) and googol, written as the digit 1 followed by one hundred zeroes (1.0 x 10100). The new logo consists of two double letters positioned in the centre of the composition. The double Z represents an onomatopoeic synthesis of the concept of "buzz". It is mirrored by the two OOs underneath, which combine to create the symbol of infinity and promotes the concept of something that has no limits. The complete configuration is strongly distinctive, asymmetrical, iconic and combined with bold colours creates an unexpected and interesting image.
Buzzoole Labs, is a collective of over 5,000 leading social animators, photographers, filmmakers and stylists who have been selected and developed as creators of the most groundbreaking social content. Brands can now access Buzzoole Labs to develop their creative strategy through an in-house team and this collective for a fraction of the cost of a traditional creative agency. Combining this with real time engagement analysis and cross platform media buying Buzzoole can drive significant efficiencies for brands.
"We are extremely proud of everything we've built at Buzzoole and as with other breakthrough technologies, innovation remains at the heart of our company. Our full service approach means that we are constantly looking to fill the gaps, providing brands with a platform and partner that is capable of combining high quality content creators with technology that ensures measurable, trackable, transparent and verified results. The result is maximum ROI for our clients", commented Fabrizio Perrone, CEO & Founder of Buzzoole.
Brands can now access Buzzoole Labs to develop and activate bespoke video, image and cinemagraph content, which is automatically licensed and owned by the brand for unlimited usage and time. The partnership also builds upon existing partnerships such as that with cinemagraph company Flixel. The intent behind the launch is to cultivate social creatives and power bottom up creativity. The result is the perfect marriage of technology meets creativity.
"Buzzoole Labs is the perfect compliment to our full service influencer solution and provides a global operating model for producing high quality creative work at a fraction of the cost of a creative agency. Through image, engagement and sentiment analysis of our 260,000 strong opt-in influencer community we can build a schedule of the best "influencer creatives" and collaborate with these Creators to develop both long term content and bespoke campaign solutions. Buzzoole Labs will allow us to spot trends, nurture the very best social talent and continue to invest in our growing Creator community," added, Ian Samuel, CCO at Buzzoole.
Today Buzzoole boasts a team of over 70 people distributed across five global offices. It is active in 176 countries and on all platforms. It supports over 260,000 Content Creators, more than 850 customers and delivers over 25 million interactions. Its rebrand aims to help it to continue its global expansion.
Buzzoole continues to innovate and invest in its proprietary technology and dedicated Research & Development reflects more than 35% of its global team. As a result, it has also been recognised by Unilever Foundry, Accenture, Facebook Start, Intel, UK Trade & Investment and as a Representative Vendor in the 2018 edition of the Market Guide for Influencer Marketing Solutions by Gartner.
Source: Buzzoole