Toronto-based agency LP/AD launch the first campaign following its rebrand of sales integration software company, ContactMonkey.
'Do Little, Achieve Greatness' takes a comical spin on sales software by launching a series of hidden camera content which follows a particularly cheeky man in a monkey suit on his way to the office.
In the 60-second hero film, we see our office worker taking his daily commute to work, but this is not the typical drudgery of city commuting. Dressed in a monkey suit he travels via the subway to the business district. To the amusement of bewildered onlookers, the chimp is typically mischievous as he swings from the carriage handlebars before grabbing a coffee on his way to the office. The primate arrives at his desk revealing his computer screen which features ContactMonkey's newly re-designed logo – suggesting that the Software has freed up the worker's time to allow him the freedom to monkey around.
As experts in brand development and brand re-launching, ContactMonkey initially partnered with LP/AD to mastermind the repositioning of the company with refreshed branding including a new logo and website. The fun 'do little, achieve greatness' campaign aims to show the ease of achieving a company's goals by installing and using the software which allows users to sit back, relax and achieve greatness.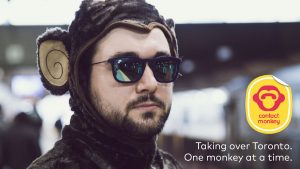 Alex Shifrin, Managing Partner at LP/AD explains: "We wanted to set ContactMonkey apart from other integration software providers on the market. The playful tone of the campaign was devised to differentiate the brand from other more serious providers that can seem a little scary. The message of 'do little, achieve greatness' encompasses a more human and effortless feeling that people in sales can really get on with."
Scott Pielsticker, Founder and CEO at ContactMonkey says: "Our aim is to make people's lives easier and that's exactly what our software does. We provide a solution for sales and internal communicators to work more efficiently within the systems they already use, whether that's their Outlook, Gmail or Salesforce. We collaborated with LP/AD to emphasise this in a new way with a light-hearted tone and we have definitely achieved this with this fun campaign!"
In the lead up to the film's launch, the unveiling of the spot was teased with a series of mini clips and GIFS on Facebook and LinkedIn. The wider campaign is also complemented by sponsored ad content featuring intriguing still shots from the monkey's offbeat expedition on social platforms.
The 60" will play out on Facebook, LinkedIn, YouTube, and www.ContactMonkey.com on from 30th April 2018.
Source: LP/AD